We spoke to a few of our colleagues to find out what Diwali, the joyous festival of lights, means to them and how they celebrate.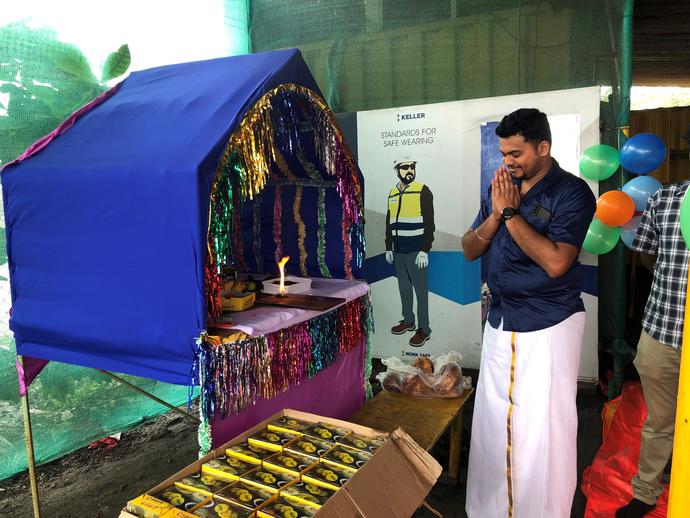 "This is my first Deepavali as a married man"
Ashok Kumar Rupiti
Deputy Site Manager, Keller India
I'm from the southern part of India, so here Diwali is known as Deepavali. For us, this festival marks a change in seasons and in life – light over dark, good over evil.
I got married in June this year, so this was my first Deepavali as a married man – what we call 'Thalai Deepavali'. Most of the rites and rituals are focused on the groom and the couple will celebrate their first Deepavali at the bride's family home. As is custom, my wife's mother and father invite us to their home, where they bless us with new clothes and jewellery so that we will have good health and wealth for the rest of our lives.
As a custom, we would have had 20 to 30 relatives, friends and neighbours come around to offer food and the special sweets (Laddu). But, because of COVID the celebration was restricted to close family. But we made our home bright, light the crackers and pray to Goddess Lakshmi for the death of evil.
We also celebrated at work. We had a Puja [prayer] and everyone came to work in Indian traditional clothes.
Hopefully this Deepavali marks a change where things will improve in the future.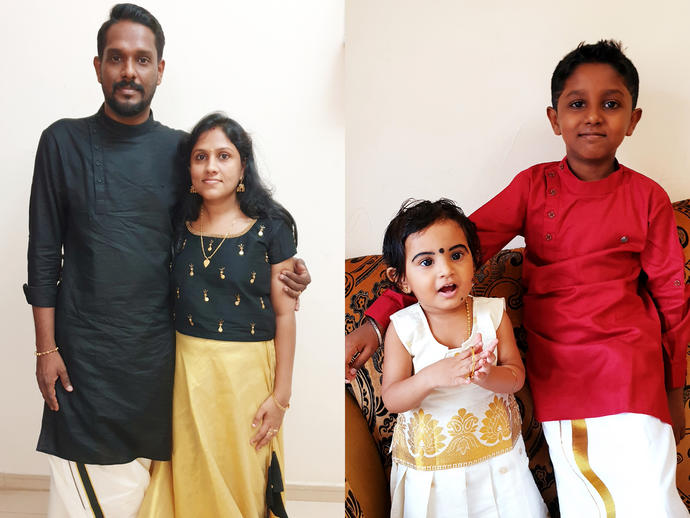 "I've always loved the crackers and lights"
Varun Chandrababu
HSEQ Manager, UAE
I'm originally from Kerala in the south of India where we only celebrate Diwali on the one day. It's always exciting – I've always loved the bursting of the crackers.
I've been in the UAE for the past 13 years and this year my sister is also with us. Last year we couldn't go out because of COVID. This year we got up early to go to the temple to pray, then in the evening after work we went to a restaurant for a feast. We also lit up our home with candles and diyas – the traditional clay oil lamps.
As the children get older, I'm trying to teach them that it's not just about fun and fireworks and lights, it's an important festival that celebrates the victory of the god Rama over the evil demon king Ravana.
Although I miss my family back in India and the way whole cities would light up with the crackers, we still enjoy dressing in our traditional clothes – particularly the girls and women – and sharing food and sweets with our friends and family.
One day we'll go back to India, so we want to make happy memories of our time here.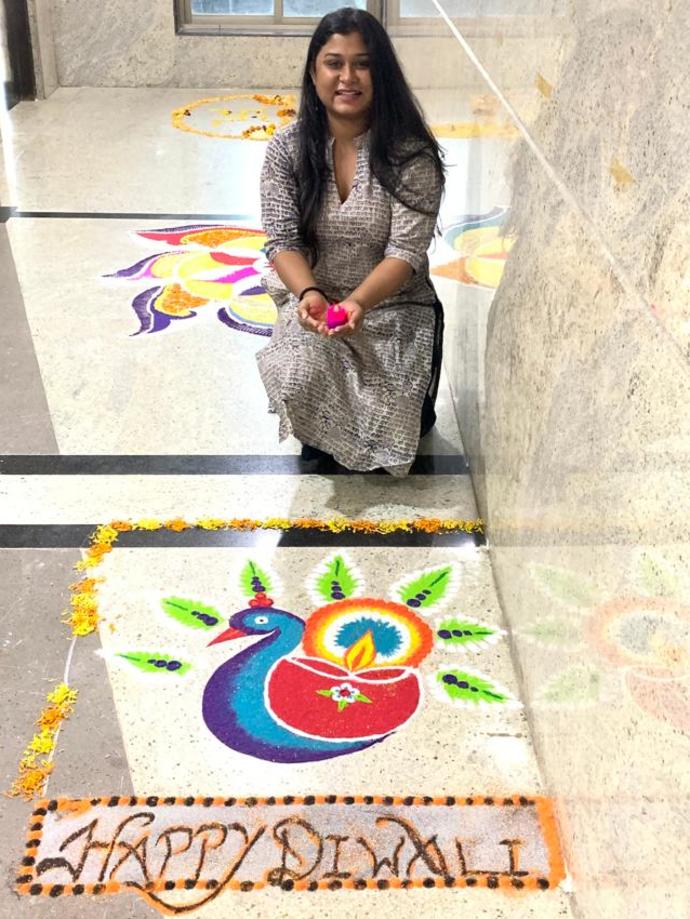 "It's fun to celebrate with colleagues at work"
Shirin Roy
Engineer, Business Development, Keller India
To me Diwali is a festival of happiness, joy and light; a time to get together with family and to go out and enjoy.
I'm from West Bengal, where we celebrate Diwali along with the festival of Kali Puja. Every state has differences in which gods they worship, and we honour Kali by making offerings to clay sculptures.
I'll celebrated Diwali at home with my sister, but it's also fun to celebrate with colleagues at work. On the Friday before we decorated outside the office with rangoli [colourful patterns], played games, wore traditional clothes and shared food.
It's the greatest festival of India and everyone is in a festive mood.
"It's a big festival for children"
Sridhar Valluri
Deputy General Manager – Business Development, Keller India
Diwali is celebrated during Kartik, an auspicious month in the Hindu calendar. It's a holy time and with Diwali we invite the 'rays of light of divine knowledge' into the house. During this month some people will get up early and pray, meditate or fast – everything to be closer to God. After the new moon, we also get together with other friends and families to prepare and share food (Vana Bhojanam).
I'm from the southern state of Andhra Pradesh and I celebrate Diwali – or Deepawali as we call it – over three days. The first day is celebrated by worshipping goddess of wealth (Lakshmi) and the father of Ayurveda (Dhanvantari Jayanti). The following day is the day when god Krishna overcame and destroyed the evil demon king Narakasura. This is considered as a symbolic victory of Knowledge and good over ignorance and evil. On this day we light the lamps (diyas) and celebrate Naraka Chaturdashi. The next day which is marked as Deepawali is celebrated on Lord Krishna return to the Kingdom. This is when we celebrate by lighting lamps and crackers. Several people also perform Lakshmi puja on this day (for good fortune, prosperity and well-being of the household).
I now live in an apartment in Mumbai, in the west part of the country. I celebrated with my wife and daughter – it's a big festival for children and she enjoys making and painting the clay lamps, decorating the house. It looks lovely when all the balconies are lit up with the lights and beautiful rangolis (colourful floor patterns).