We want every person who works for us, or with us, to go home safely at the end of each day.
To achieve this, we are committed to effective HSE leadership and management, continually developing a positive ​safety ethos of understanding, transparency and learning, and the promotion of healthy behaviours to help avoid illness or injury arising from people's work or lifestyle.
Improving our safety performance
Safety leadership at all levels of the organisation is our strength; this is demonstrated through genuine and visible presence at our work sites, which is an opportunity for site teams and management to discuss and resolve issues. We set objectives and measure leadership visits throughout the year; in 2022 we recorded 4,000 visits.
Ensuring our safety programmes are well designed and simple to use is paramount to ensure everyone understands their role and personal responsibilities. We continue to implement our field-based application 'InSite'; this application enables 'real time' delivery of required safety information to our site teams. This application is now in daily use across North America and is being implemented in AMEA and Europe. 
Our strong efforts on assurance continue; in 2022 we completed close to 3,000 site and shop verifications. In 2023 we will double down on this effort to ensure that key requirements are implemented effectively in all locations.
Keeping our people safe
We continue to focus on our key risks, known as our Work Safe 6; ensuring that we have consistent standards that are employed consistently is central to our approach. In 2022 we developed an induction programme to be used across the Keller Group that ensures new employees are provided with fundamental training requirements and understanding of our cultural expectations.
Responding with urgency and understanding the cause of incidents is an area that we have concentrated on over the years. Our incident management process and subsequent incident review board process ensures that we learn and share everything we can. In 2022 we put additional emphasis on near miss reporting and saw the number of reports increase by 50%. We view this as a very positive metric which enables us to implement actions to prevent injuries from occurring.
The Group's overall accident frequency rate (AFR) for 2022 is at 0.1 per 100,000 hours worked. Our total recordable incident rate (TRIR) is at 0.79 per 100,000 hours
Case study
Keller's first Global Safety Week
Keller's divisions and business units have held their own safety days or weeks in the past. Based on their success, and to have even more impact, in 2022, we involved everyone this year in our first ever Global Safety Week.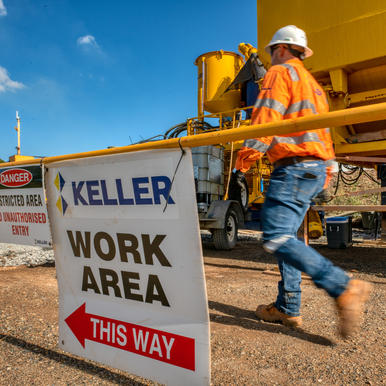 The week was a chance to recognise the efforts to keep us injury free and encourage everyone to continue to work together to get people home safely, every day.
Throughout the week, leaders did more than 350 site visits to thank teams personally for their contributions and encourage everyone to continue to play their part in keeping teams safe.
Site teams took part in toolbox talks focused on our Stop Work Authority - the right of anyone to stop work if they believe something is unsafe - and health and wellbeing.
We also recognised and, via videos, celebrated our safety champions; the people that take that extra step to support safety, regardless of the job they do.
In all, 95% of employees said the week increased awareness of safety generally, and understanding of Stop Work Authority in particular.
It doesn't matter who we are, where we work, or what we do, we all have a responsibility to stop work when things don't feel right. Safety Week was a great opportunity for us to reinforce that."

Group HSEQ Director