Bulk filling generally uses a cement/pulverised fuel ash (PFA) mix to suit site conditions with compressive strengths in the order of 1.0 N/mm2. The mixes may include Sand and Bentonite etc as required.  Gravel is introduced to fill major voids and/or to form containment barriers.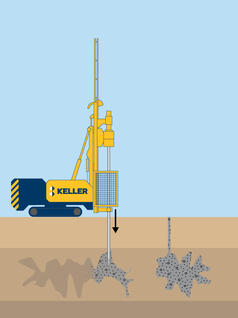 Common uses
Single or multi-seam, horizontal or inclined workings
Dry or waterlogged, or with underlying unconsolidated deposits or fractured rock strata as a result of subsidence
Old mine shafts, often hidden
Process
Bulk infill grouting is normally carried out from primary grout injection holes on a square grid with secondary and tertiary holes as required.
Advantages
Reduces the risk of void migration that could cause settlement or collpase at the ground surface
Locally sourced materials can be used to limit the cost
Quality assurance
Keller has extensive knowledge of grout injection and grout mixes, a variety of rig types to accommodate access constraints and can offer alternative grout mixes to mitigate dust.