News article category
Workplace and people
Akhila Manne, Senior Engineer at Keller India, has won a prestigious grant from the global Deep Foundations Institute to attend its annual conference. We spoke to Akhila to find out more about the award and her career at Keller.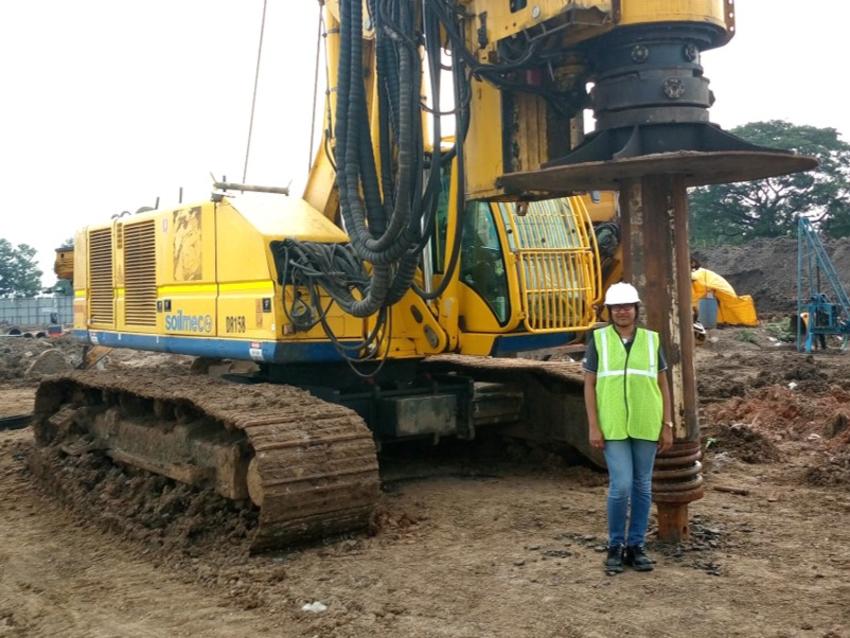 Engineering is in Akhila Manne's blood. With a father, sister and cousins all in the profession, following in their footsteps always seemed like the natural choice.
But it was while studying for her undergraduate degree that she was drawn to the geotechnical side of the discipline. "It's more common for people to go into structural engineering, but for me it's the complexity of working in a changing natural material such as soil that makes geotechnical engineering so interesting," she says.
And when it came to moving into industry, Keller was the company for her. "Keller has a great reputation and came up a lot during my course, so it seemed like the natural choice."
"Everyone here is well supported"
Akhila did join Keller, but not before gaining a master's degree and spending time as a visiting lecturer and research assistant, authoring a number of technical papers. It was interesting work, but a move into industry was always her calling.
"What I like about Keller is that it doesn't feel like there's a hierarchy; you can talk to anyone – that's not the same for a lot of big Indian companies," she says. "I moved 700km to work at the Chennai office and they really looked after me – everyone here is well supported and treated like family. And when you go and visit a site there are always decent facilities for women."
Women are still the minority in engineering in India, but Akhila welcomes the fact that half the design engineering team are women – although she admits she'd like to see more women in senior management.
Promoting more success among women is one of the reasons why the DFI's Women in Deep Foundations Committee hands out professional development grants to female engineers every year. Akhila was one of five women to win the award this year, and it will see her travel to the US to attend the Institute's annual conference, raising her profile and improving networking and mentoring opportunities.
"A chance to be inspired"
Sadly, the Covid pandemic is likely to see the trip postponed, but still Akhila is delighted to win, after applying just 10 days before the application deadline.
"For me it's going to be a chance to be inspired and to inspire others," says Akhila. "It's an opportunity to meet other women professionals and to build important relationships. Seeing others like you succeed is very motivating."
Not that Akhila lacks motivation or ambition. Since joining Keller, she's worked on some of the company's most important projects in India. In fact, just three months in, she was involved in the high-profile Polavaram Dam project – Keller's first jet grouting project in the country. "I spent a lot of time carrying out research and working with colleagues in Australia to design the project, and then being on site to inspect and to learn," she says.
As for the future, Akhila wants to get more experience under her belt, but is keen to move into management. "I'm very interested in leadership roles," she says, before adding with a smile: "I think I'd be good at making sure things get done!"