News article category
Project
Keller's Waterway Constructions business unit in Australia has completed its first bridge construction. The high-profile Stingray Creek Bridge replacement project involved many logistical, environmental and technical challenges – but its success will allow us to expand into new markets.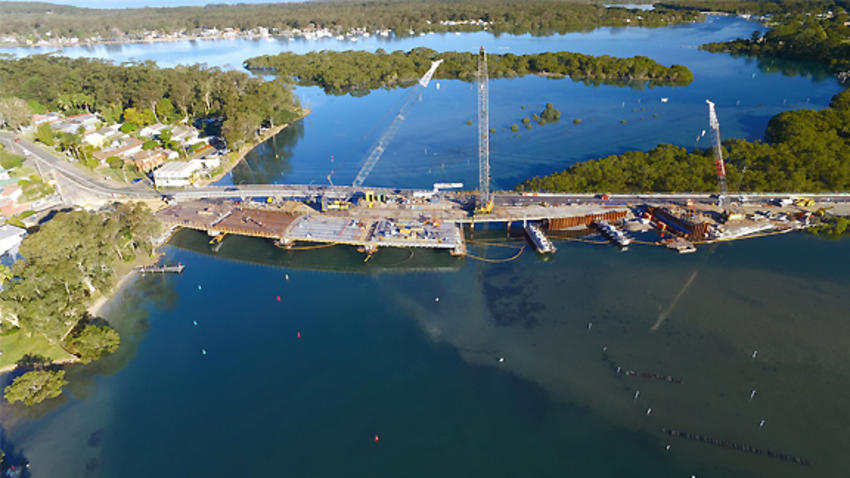 After two decades of planning frustrations, residents in the small, picturesque coastal town of North Haven, 360km north of Sydney, are finally celebrating the opening of the new Stingray Creek Bridge.
The new bridge, which replaces one built in the 1960s, is a two-lane, single carriageway with pedestrian and bicycle crossings on both sides. At 190m long and 15m wide, the bridge is sited just upstream from the old, 7m wide bridge and provides a much safer crossing for both traffic and pedestrians.
Waterway Constructions took over the A$23 million project in 2016 following the acquisition of fellow specialist marine contractor, Smithbridge Group. Planning for and oversight of the project was led by Waterway's National Operations Manager Adam Knight, with site works managed by Project Manager Toby Cuthbert Ashmore.
Building a bond
"Integrating the Smithbridge personnel into Waterways and bringing the two teams together was a little bit of a challenge but we were able to build a bond quickly," explains Toby. "For Waterway, this was our first bridge construction project and we faced a lot of other challenges in terms of environmental issues and maintaining positive relationships with the local community – which includes many retirees."
The team implemented various environmental controls to protect the surrounding ecosystem, including local flora and fauna such as seagrasses and dolphins, as well as the commercial interests of nearby oyster farms. A key to the successful management of local stakeholders was regular meetings and updates with community groups. Waterway also had to manage complex road and marine transport, keeping both the road and river open. To solve this, they installed a temporary bridge that was used as the working platform to build the new one.
Working in and over water brings its own specific safety and stability challenges, and the site itself had to be carefully managed to take into account nearby power lines and the adjacent roadway. Furthermore, as the project was publicly funded through Port Macquarie-Hastings Council, Waterway faced stringent safety, environmental, quality and documentation standards.
Solving piling issues
"When we came on board, issues with the piling design were slowing down the project," Toby adds. "We were able to use our special piling and project management expertise and work closely with the client's designers to refine the design and achieve realistic loads."
Working on a curvilinear alignment to suit the site constraints, the scope of works involved supplying and installing 22 cast-in-situ steel piles (900mm and 1,500mm), 12 reinforced concrete columns, 49 deep Super Ts (pre-cast bridge girders weighing around 50 tonnes each) and a 200mm-thick reinforced concrete deck slab. There were also significant approach roadworks, which included the installation of 140 timber piles.
Proving our worth
Despite the numerous challenges, the new bridge was successfully completed and opened on time at a ceremony hosted by the mayor and local residents. And Toby says the team has had excellent feedback from the client and community.
Waterway Constructions has also demonstrated the expertise and ability to successfully deliver highly technical, challenging projects as it moves into this new market.