News article category
Project
An extensive new harbour complex that will attract large cruise ships to one of the Middle East's most iconic locations is underway, with Keller nearing completion on some innovative deep compaction works.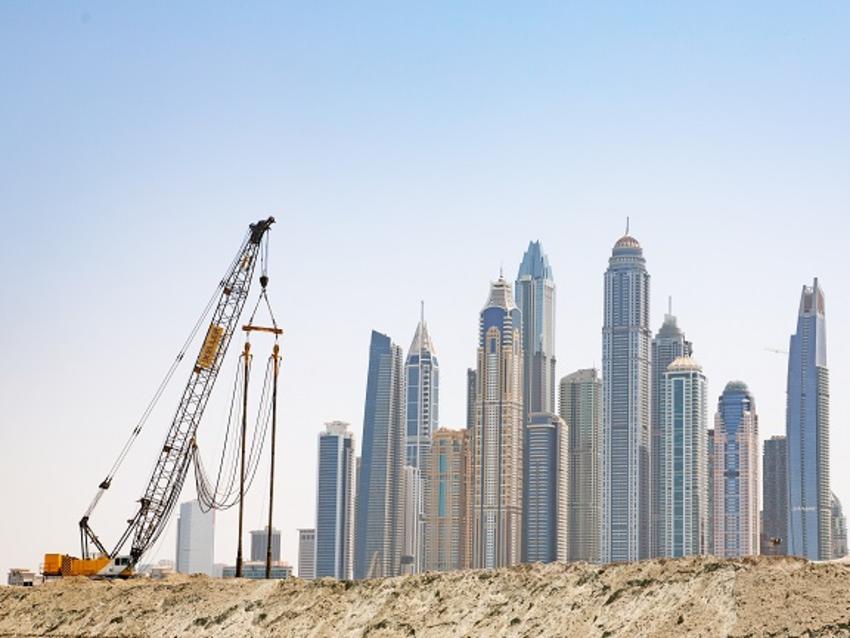 The new 20-million-square-foot Dubai Harbour, which will sit adjacent to the famous Palm Jumeirah, will feature the region's largest marina, as well as a cruise ship terminal, a 135m-tall lighthouse featuring a luxury hotel, and various retail and entertainment spaces.
Led by developer Meraas Holding, the project is the cornerstone of the Emirate's vision to attract 20 million tourists a year by 2020.
The project requires substantial land reclamation to create a new peninsula, and the work was contracted to leading international dredging specialists, Van Oord. In turn, Van Oord has brought in Keller for its expertise in ground improvement.
Compaction experts
"Vibro compaction is one of our core products in the Middle East and this is our third contract in a row for Van Oord, building on what is already a successful relationship," says Guido Freitag, Technical Director. "We're very experienced in this type of work – over the last 25 years there's been a lot of reclamation and development in the region, and since 2000 we've carried out more than 200 million cubic metres of ground compaction."
In late February, Keller started the project by beginning ground compaction on seven million cubic metres across approximately 380,000m2 of land.
"Van Oord chose us not only because of our expertise and competitive price, but because we were able to bring some innovative thinking, cutting costs and saving time on what is a time-critical project," he adds.
A new approach
Typically, there are two ways to compact the ground on the sloping edge of reclaimed land – either from a marine platform or by temporarily extending the reclamation so the equipment can reach the end of the slope from a dry platform (the overfill). The dredging contractor would then need to cut the overfill back to the desired shape, reusing or disposing of excess material.
Never just accepting the standard way of doing things, Keller had a different, more innovative idea.
"Our solution was to use a larger-than-usual crawler crane, eliminating the need for expensive marine equipment or extensive overfill and cutback," says Raja Mohamad who, with more than 25 years' experience with Keller, led the site operations as project manager. "When the shoreline is as long as this [2,675m], a 20m-wide overfill would have added close to an extra million cubic metres and had a big impact on schedule and cost."
Raja was well supported in the work by Project Engineer Peter Cabbab, who has executed at least 80 million cubic metres of vibro compaction works during his eight years with Keller.
Keller was also able to support the client's unconventional idea for the reclaimed land's source material. Initially, Van Oord was going to have to dredge from an approved area out at sea, but since they also had to dredge a channel to allow large cruise ships access to the harbour, they wanted to reuse this material.
A good idea, but would it work?
"We were able to support Van Oord before the tender stage so they could reassure their client of the deviation from the original plan," adds Guido. "We needed to show we could compact the material sufficiently for it to fulfil the geotechnical performance requirements.
"Drawing on the expertise of our engineering and operations teams, along with input from the Keller Vibro Global Product Team, we were able to carry out a series of tests to prove that it would meet the right level of quality."
Cone penetration tests weren't suitable for the conditions, so the team used a combination of traditional boreholes and standard penetration tests, along with dynamic penetrometer testing.
"With this type of project there's always a risk that the source material won't meet the client's aspirations," he adds. "But we were open to an innovative approach and worked with them to prove their concept, in turn saving them time and money."
With Keller's works due to be completed by the end of November, the project is on target to be a high-profile success – one that Guido says will strengthen Keller's relationship with the customer, defend its market-leading position in vibro technology and boost its reputation for delivering outstanding work