News article category
Project
Keller India has completed one of its largest projects, constructing 13,500 bored piles for the development of a groundbreaking oil refinery in Rajasthan. The refinery, which will be one of the country's largest, is the first of its kind in the state and will create tens of thousands of jobs.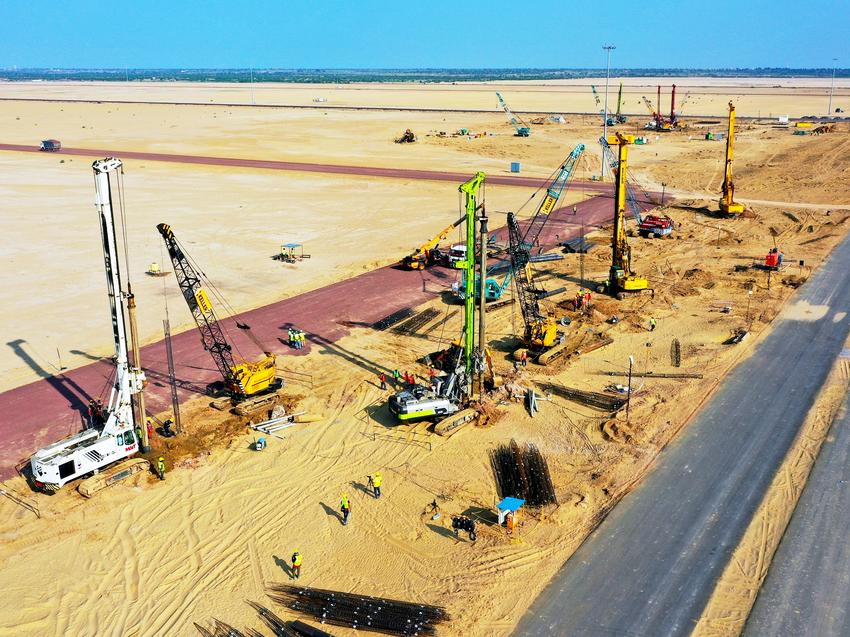 After years of delays, construction of the $6 billion Barmer refinery and petrochemical complex is underway. Scheduled for completion in 2022, the refinery will have a 9 million tonne capacity, making it one of the largest in India.
It's a vast, high-profile project – and it's one that Keller has been proudly involved in since winning a competitive tender in 2019 from public sector contractor Engineers India. The project is being developed as a joint venture between the Hindustan Petroleum Corporation and the Government of Rajasthan, and will provide an economic boost to the region, prioritising local people for around 40,000 jobs.
Intense heat
"This was a big project for us, involving over 400 workers," says Shashikant Kunvar, Site Manager. "The client was looking for us to construct bored cast-in-situ piles to depths of around 15m-17m.
"The refinery is being built in the desert in western Rajasthan, and although we didn't have any difficulties with the ground conditions, the temperatures were very high – around 50ºC – with no greenery or cover at all. We also faced regular sandstorms, so a big concern was looking after the team."
A series of shelters were constructed where workers could have regular breaks, take refreshments and escape the intense sands. Teams also took mandatory three-to-four hour breaks in the middle of the day to avoid the highest temperatures.
Projects of this size in harsh, remote environments require attentive planning and careful inventory management to maintain production levels. Shashikant says Keller India used its experience of large projects to estimate the inventory for the entire project and kept a month's supply of materials on site. This approach, he says, meant "we were not idle for a single day".
And despite the challenges, the team maintained high levels of production; at one point operating around a dozen rigs to install more than a hundred piles a day.
A gateway to future projects
As the project progressed successfully, Keller was asked by the client to extend the original contracted works by an additional 2,200 piles – taking the total to around 13,500.
The works took around eight months to complete and Shashikant says the team "had great feedback from the customer, who has awarded us an additional scope of 10,000 piles for this year, with more to come in future.
"Overall this project has shown that Keller India has the resources, planning and dedication to deliver the biggest, most high-profile projects on time and to a very high quality, even in extreme environments."