News article category
Project
Keller's ability to partner with clients and offer the full range of innovative technical solutions was evident again – this time on a $439 million sewage treatment plant project with a positive environmental impact.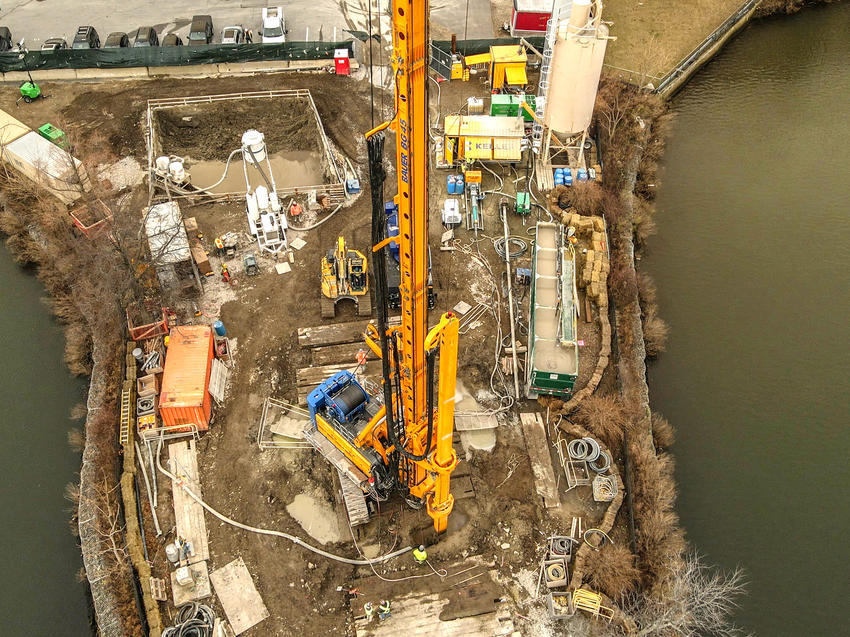 The South Shore Water Reclamation Facility on the coast of Long Island, New York, is undergoing a major upgrade to redirect treated effluent away from the Western Bays – where nitrogen rich effluent had a detrimental effect on the water quality.
In a design-build partnership with Western Bays Constructors, Keller provided excavation support for 14 shafts to support the tunnel boring machine (TBM) for the new pipeline. Each one is up to 70ft deep and has an internal diameter of up to 29ft. The project also included excavation support for a diversion structure and a wet well – a tank that holds effluent until it reaches a certain level, then it's pumped out.
Bringing value to the table
Before construction, Keller spent nine months working with the client to select the right techniques for each location. Working close to the ocean with a water table only a few feet below grade, the design had to be optimised to meet stringent shaft wall strength requirements.
"For eight of the shafts, we opted for an innovative and relatively new technique for this area: cutter soil mixing [CSM]," explains James Myers, Senior Project Manager. "This specialised deep mixing technique uses a machine with rotating cutting wheels. As these submerge, we pump slurry to create a series of strengthened panels that form the shaft walls, ready for excavation."
Half of the shafts required a single layer of panels, the other required a double ring of panels to support the jacking frames used for the TBM launch.
"The choice of CSM really brought value to the table," adds James. "From a technical perspective, it creates fewer panel joints and more overlap than secant piles, which reduces the risk of water inflow. From a production standpoint, it's also faster, more cost-effective and saves wear on the TBM. With CSM, the TBM machine must chew through less than 1,000psi of Soilcrete; with piles, it can be as much as 5,000psi and 3ft thick.
More tools in the box
Quality control was of the utmost importance to achieve water tightness and the required levels of strength which depended on the depth. To ensure the highest standards, the CSM rig uses a sophisticated data-acquisition system, generating detailed reports that assure the crew and the client.
While the CSM offered considerable benefits, it wasn't ideal for every shaft location. The heavy organic peats and clay soils in some areas meant the CSM would struggle to construct panels with the necessary strength. For these shafts, Keller switched to bored piles. The scope included over 400 cased continuous flight auger (CFA) piles, 750mm diameter drilled to 60ft, plus around 40 traditional bored secant piles (with 850mm diameters) where extra depth was needed. The piling team, led by Project Manager Kyle Davis, also installed around 60 micropiles.
As well as the piles and CSM, approximately 450 jet grouting columns were constructed to form water-control bottom seals in the shafts and wet well.
Keller's work finished in June after 12 months.
Close coordination
"One of the biggest challenges we faced on this project was space," says Kyle. "There wasn't a lot of room with rigs working side by side, so everything required a lot of close coordination between our different crews – but that's the advantage of Keller. We could have piles and jet grouting taking place simultaneously and sequence everything, so we weren't getting in each other's way. I think it would have been almost impossible if two different subcontractors tried to coordinate works."
Space wasn't the only issue. Industry-wide cement shortages midway through the project caused a temporary setback. But despite that and some minor remedial work to fix a few imperfections, the project has been – with half the shafts excavated so far – a success.
"Being able to offer different techniques on a project of this size and sometimes having two, three or even four crews, plus all the equipment, is something certainly no local competitors could offer, and probably few national ones," says James. "The project shows the strength of Keller."