News article category
Corporate
Keller Group plc ('Keller' or 'the Group'), the world's largest geotechnical specialist contractor, announces its results for the year ended 31 December 2021.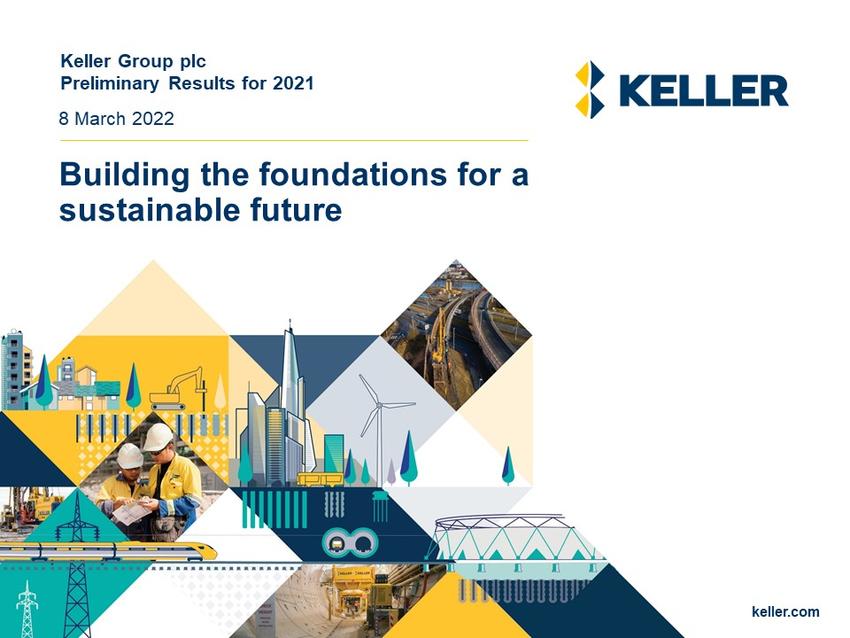 A strong and resilient performance ahead of market expectations
1 Underlying operating profit, profit before tax and underlying diluted earnings per share are non-statutory measures which provide readers of this announcement with a balanced and comparable view of the Group's performance by excluding the impact of non-underlying items, as disclosed in note 8 of the consolidated financial statements.
2 Net debt is presented on a lender covenant basis excluding the impact of IFRS 16 as disclosed within the adjusted performance measures in the consolidated financial statements.
Highlights
Revenue increased to £2,224.4m, up 13% (at constant currency) as a result of increased trading activity, particularly during the second half, and several bolt-on acquisitions (up 9.7% on an organic basis)
Record order book at £1.3bn; well positioned for future growth
Underlying operating profit of £92.8m, ahead of market expectations, but down 10% (at constant currency) reflecting adverse pressure on market pricing, operational disruption due to COVID-19 and unrecovered steel price increases at Suncoast 
Underlying EPS of 88.4p, down 8%, decline mitigated by lower finance costs and a prior year benefit from R&D tax credit
After funding acquisitions, net debt (on a bank covenant IAS 17 basis) marginally improved to £119.4m, equating to net debt/EBITDA leverage ratio of 0.8x (2020: 0.7x)
Further progress in operational safety evidenced by a 42% improvement in our overall accident frequency rate
Net zero targets set across all three emission scopes by 2050; net zero on Scope 2 by 2030, net zero on Scope 1 by 2040 and net zero by 2050 on Operational Scope 3
Further execution of strategy with portfolio refinement and several acquisitions that build our share in our chosen markets, particularly RECON Services, Inc in North America
Recommended final dividend of 23.3p, continuing the Group's uninterrupted track record of increasing or maintaining dividends every year since flotation in 1994 and reflecting the financial strength of the Group
Keller proved its resilience in 2021, overcoming the many challenges posed by COVID-19 whilst further rationalising the business portfolio, completing a number of bolt-on acquisitions, delivering another strong set of results which are ahead of market expectations, and maintaining the dividend. Whilst we are mindful of the recently increased geopolitical and macroeconomic uncertainty and inflationary pressures, our expectations for 2022 are unchanged. Our £1.3bn record order book gives us good visibility in the near term. In addition, our strong balance sheet, a gradually improving market environment together with the positive momentum in the business, gives us confidence that 2022 will be a year of growth, with our usual second half bias.
Chief Executive Officer
Preliminary results announcement for year ended 31 December 2021
For further information, please contact:
Keller Group plc
Michael Speakman, Chief Executive Officer
David Burke, Chief Financial Officer
Caroline Crampton, Group Head of Investor Relations
www.keller.com
020 7616 7575
FTI Consulting
Nick Hasell
Matthew O'Keeffe
020 3727 1340
A webcast for investors and analysts will be held at 09.00 GMT on 8 March 2022 and will also be available later the same day on demand https://www.investis-live.com/keller/61fcf5efd99fcd0c0000e9b9/defu