News article category
Project
Keller North America companies Hayward Baker and Bencor have teamed up on their first joint venture to complete works on a new Marriott hotel in Austin, Texas. With McKinney Drilling and Sun coast Post-Tension also on board, Keller has once again demonstrated its ability to offer a comprehensive, seamless service.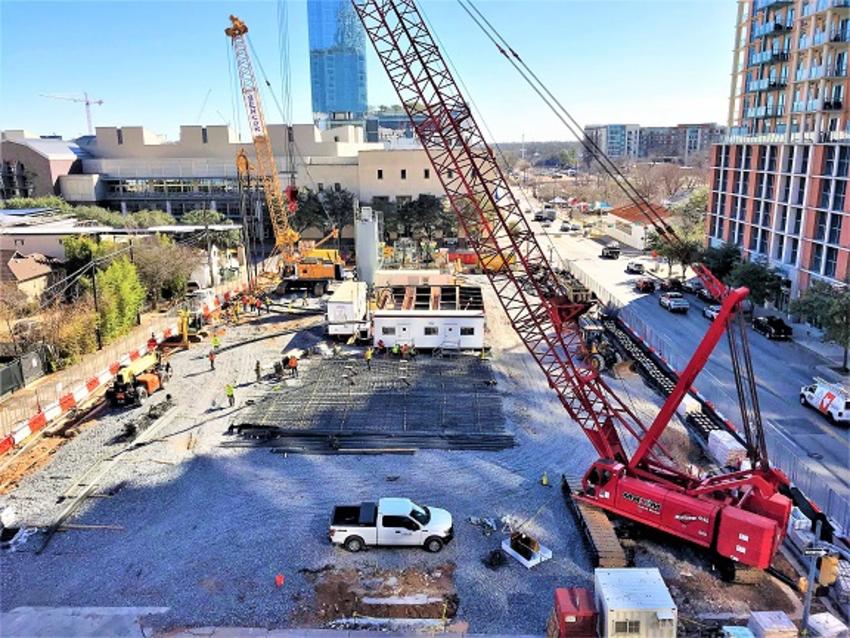 Scheduled for completion in summer 2020, the much-anticipated 31-storey Austin Marriott Downtown will provide more than 600 bedrooms and over 60,000ft² of conference space in a prime location. This construction project has also marked the first commercial joint venture for Bencor and Hayward Baker, with the former constructing a diaphragm wall (made in situ with reinforced concrete) and the latter installing the anchors.
"DPR Construction approached us in May 2016 about a proposed earth-retention system consisting of a permanent structural basement wall for a three-level subsurface parking garage," explains Phil Kihlthau, Hayward Baker Project Manager.
The one-acre project site is bordered by three thoroughfares and is underlain by 25ft of sandy clay, followed by 5 to 10ft of poorly graded sand and finally limestone bedrock. After extensive site investigation, it was determined that it would be too costly to maintain a dewatering system that would allow for conventional earth retention.
Finding the best solution
With the help of Bencor, Hayward Baker proposed an anchored diaphragm wall (32in thick, 50ft deep and 800ft long) to stop groundwater getting into the site, provide a temporary earth-retention system, and create structural foundational support for the building. The wall would be supported by temporary strand tieback anchors each with a design loading of 211 kips.
While this approach initially appeared costly, it actually proved to be more economical for the client than other solutions: Alternate anchored soldier piles wouldn't have provided water cut-off, and an anchored secant pile wall wouldn't have provided a cost effective, permanent basement wall.
"This multipurpose design-build serves more than one function, making it competitive when compared with performing multiple techniques separately," adds Hayward Baker Senior Vice-President Art Pengelly.
A collaborative effort
The work wasn't without challenges though – both in the pre-construction and construction phases.
Diaphragm walls and water cut-off systems are not new to the Austin market but are rarely used due to the geology of the city and past developments not requiring them. In fact, Bencor installed its first diaphragm wall in Austin over 20 years ago. During negotiations, the Amli Condominium project completed by Bencor in 2001, located near the Marriott project, was instrumental in convincing DPR to use this system as an earth retention and water cut-off system.
Bencor and Hayward Baker also had to work with the structural engineer, Magnusson Klemencic Associates (MKA), to modify the building design. MKA had to be comfortable with replacing the proposed typical cast-in-place basement wall with a diaphragm wall to support the building. They also had to trust Keller to coordinate the connection of the diaphragm wall to their building above.
Working in a congested urban environment with underground utilities and contaminated soils also had an impact on the project. The site had to be pre-excavated by nearly 7ft to remove the contaminated soil. Once removed, new soil and rock was brought back to create a level working platform for the equipment.
Providing the complete package
Having worked with Hayward Baker extensively in the area, fellow Keller company McKinney Drilling was brought in for the small but essential task of drilling the shoring piles (eight at 60ft deep) for the wall, returning in June to drill the holes for the client's tower cranes (four at 40ft deep and four at 20ft, along with an 8ft-diameter sump at 10ft deep).
"The soils were pretty bad, so we had to use temporary casings," says Andrew Dierschke, McKinney District Manager. "And down in the bottom on the tower crane piers, there was a lot of other work going on around us, so it was a fairly challenging environment logistically."
"The fact that we're all in the same Keller family made it much easier for everyone to work things out. By combining our forces, we're able to offer clients a complete package, simplified process, and more efficient service."
A fourth Keller company, Sun coast Post-Tension (SPT), will also be involved to support construction of the hotel structure meant to complement the existing JW Marriott. DPR chose Sun coast for peace of mind through the structural construction process and beyond. As the trusted source of materials, engineered installation drawings and field services, SPT will furnish the project with 314,225 lbs of post-tensioning materials to reinforce each floor level, including 21,421 lbs of Sun coast Stud Reinforcement System (SRS)® for punching shear resistance in the slabs. Helping to ensure secure and safer navigation for both vehicles and pedestrians, Sun coast will also supply 7,000 lf of barrier cable.
"This project has really been an all-round win for Keller, demonstrating the abilities and reach of the group," adds Patrick Lydon, Bencor Field Operations Manager. "We're now looking forward to many more successful future joint ventures between our companies."