News article category
Corporate
Keller Group plc ("Keller" or "the Group"), the world's largest geotechnical solutions provider, issues a trading update ahead of its Annual General Meeting to be held at 11.00am today.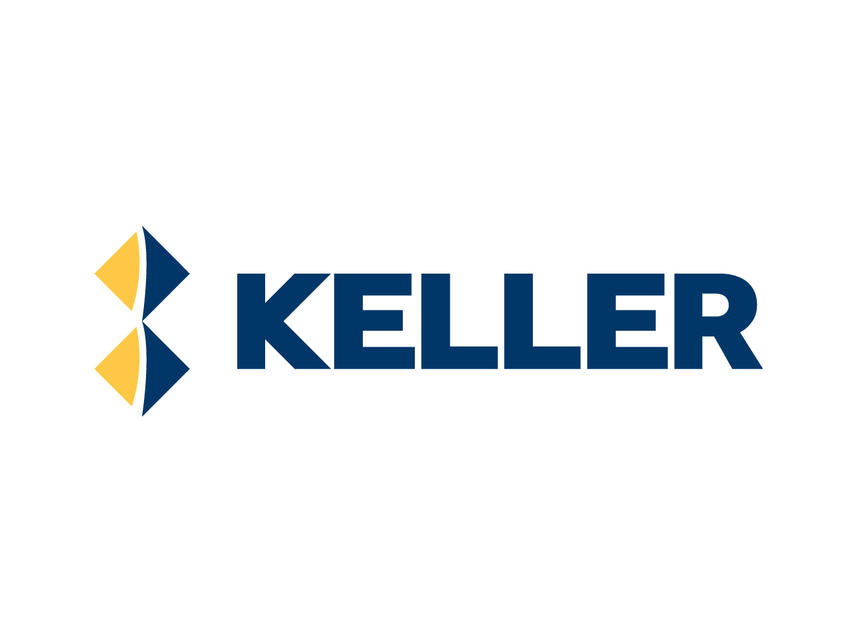 The Group has had a positive start to the year, with like for like revenue growth, and modest profit growth, in the first four months of 2018, despite the adverse impact of poor weather across both North America and Europe and the wind down of the Caspian project.
Tendering activity and contract awards remain healthy and the order book of work to be undertaken in the next 12 months, excluding the Caspian project and acquisitions, is 4% higher than at the same time last year.
There have been no major changes in our markets since we reported the Group's 2017 full year results on 26 February and the Group remains well positioned to address the global market trends of urbanization and infrastructure growth.
In North America, the first two months of the year were impacted by poor weather, but trading has improved notably in the last two months.  The US construction market as a whole remains solid and continues to grow steadily, although Suncoast is having to contend with rising steel prices.  The integration of Moretrench has started well and confirms Keller's position as the most capable geotechnical solutions provider on the East Coast, leaving it very well positioned for the expected long term renewal of infrastructure in the region.
In EMEA, despite the poor weather across most of Europe in the first quarter, our core European businesses are performing in line with expectations.  The Middle East is having a quieter year following the completion of its two major projects and the Brazilian market remains challenging.  The Group's very large Caspian project is now complete and we have largely demobilised. Excluding this project, we continue to expect further progress in EMEA in 2018.
In APAC, the actions taken to restructure the business are delivering results.  Revenue growth is encouraging, particularly in Australia as a result of a healthy level of infrastructure work and the continued upturn in investment from the resources industry.  Although pricing remains challenging in certain market segments, we continue to expect that APAC will return to profitability in 2018.
Our Group order book of over £1bn gives us confidence that our strategic initiatives, technical leadership, wide product portfolio, broad local branch network and operational strength will continue to drive the business forward.  The Group continues to make good progress against the target of £50m gross benefits from strategic initiatives.
The Group has positive momentum in all its divisions and remains on course to meet the Board's expectations for the full year.
Keller will announce its interim results on 30 July 2018.
Notes to Editors:
Keller is the world's largest geotechnical solutions provider, providing technically advanced geotechnical solutions to the construction industry. With annual revenue of over £2.0bn, Keller has more than 10,000 employees world-wide.
Keller is the clear market leader in the US, Canada, Australia and South Africa; it has prime positions in most established European markets and a strong profile in many developing markets.
For more information, please go to http://www.keller.com/investors.aspx and http://www.keller.com/investors/investment-case.aspx.
Cautionary statements:
This document contains certain 'forward looking statements' with respect to Keller's financial condition, results of operations and business and certain of Keller's plans and objectives with respect to these items.
Forward looking statements are sometimes, but not always, identified by their use of a date in the future or such words as 'anticipates', 'aims', 'due', 'could', 'may', 'should', 'expects', 'believes', 'intends', 'plans', 'potential', 'reasonably possible', 'targets', 'goal' or 'estimates'. By their very nature forward-looking statements are inherently unpredictable, speculative and involve risk and uncertainty because they relate to events and depend on circumstances that will occur in the future.
There are a number of factors that could cause actual results and developments to differ materially from those expressed or implied by these forward-looking statements. These factors include, but are not limited to, changes in the economies and markets in which the group operates; changes in the regulatory and competition frameworks in which the group operates; the impact of legal or other proceedings against or which affect the group; and changes in interest and exchange rates.
All written or verbal forward looking statements, made in this document or made subsequently, which are attributable to Keller or any other member of the group or persons acting on their behalf are expressly qualified in their entirety by the factors referred to above. Keller does not intend to update these forward looking statements.
Nothing in this document should be regarded as a profits forecast.
This document is not an offer to sell, exchange or transfer any securities of Keller Group plc or any of its subsidiaries and is not soliciting an offer to purchase, exchange or transfer such securities in any jurisdiction. Securities may not be offered, sold or transferred in the United States absent registration or an applicable exemption from the registration requirements of the US Securities Act of 1933 (as amended).
Market Abuse Regulation Statement:
This announcement contains inside information as defined in EU Regulation No. 596/2014 and is in accordance with the Company's obligations under Article 17 of the Regulation.
LEI number:            549300QO4MBL43UHSN10
Classification:         2.2 Inside information