News article category
Project
Keller recently brought its engineering expertise and experience of working on open water to a challenging project at one of America's largest ports – saving the client considerable time and money along the way.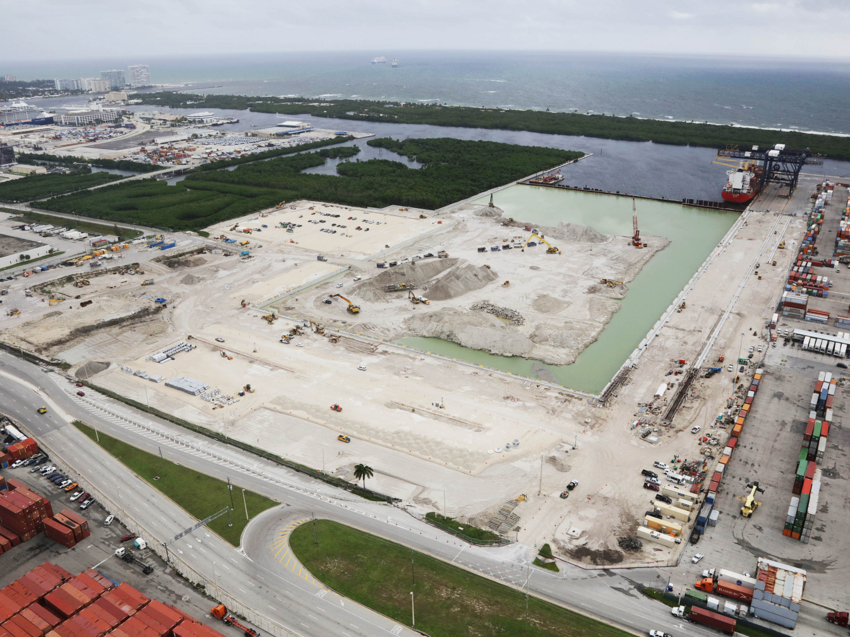 This article was adapted from a piece originally written for ADSC Foundation Drilling by Trey Davis, Project Manager, Keller North America.
Port Everglades is one of the busiest cargo ports in the US and a vital gateway for international trade. It's currently undergoing a $1.6 billion multi-year development that includes the Southport Turning Notch Expansion – a project that will more than double the 900ft-long deep-water turnaround to 2,420ft and allow five new container berths. The expansion will cater to larger, more efficient vessels.
The construction of the turning notch is being led by a joint venture between Moss & Associates and Kiewit, with Keller providing geotechnical support.
Keller was involved on this project back in 2018 [then HJ Foundation] installing auger cast piles to support new gantry crane rails and 18 acres of land improvements.
On this latest phase, Keller [then Hayward Baker] was contracted to complete works on the new combination wall bulkhead. A combi-wall is common in marine construction and involves load-bearing elements interconnected by sections of steel sheet lagging.
A more environmentally friendly solution
For around half the length of the 3,250ft-long wall, the client used traditional construction methods: steel tendons attached to manmade deadman anchors secured just below the surface.
However, deadman anchors couldn't be used for around 1,600ft of the proposed wall without disturbing or removing a large portion of protected mangroves. The structural design engineer came up with a more environmentally friendly solution for this section, with drilled soil anchors passing below the mangrove ecosystem and tying the wall into the underlying limestone.
Subcontractor Orion Marine Construction was asked to construct the bulkhead, with Keller designing and installing the anchorage. 
The Keller engineering team evaluated the client's preliminary design and came up with a value-engineered alternative. It used more efficient anchor sections, meeting the long-term load resistance and corrosion protection requirement while saving the client time and money.
Taking to the water
The bulkhead required 250 permanent soil anchors installed at 30 degrees from horizontal, spaced approximately 6.5ft apart to meet loads ranging from 65kips to 177kips.
Around 70 of the anchors were to be installed from land, with the rest constructed from a barge due to the proximity of the mangroves to the water's edge.
"We have a considerable portfolio of anchor and tieback projects on land and over water across North America," says Keller Project Manager Trey Davis. "We've also completed several projects at the port itself, including installing soil anchors on a similar bulkhead extension in 2017. Therefore, we had direct knowledge of the subsurface conditions and first-hand experience of working safely in the busy port environment."
"Safety is paramount in everything we do," adds Superintendent Steven Sidell. "We had at least seven Keller crew members aboard the barge, plus our drill, temporary casings, anchor assemblies, cement bags and more. It was a very tight fit – logistics had to be carefully planned and executed. Having the most experienced crew, good housekeeping, organisation and watching out for coworkers are staples on these difficult projects."
Drilling expertise
Another key consideration was the environment. Alongside protecting the mangroves, the team also had to be mindful of water contamination. Turbidity curtains were a permanent fixture of the drilling operations, and full-time Environmental Protection Agency personnel tested the water every day.
Perhaps the biggest challenge when drilling on open water is tidal fluctuations, so Keller's highly trained crews had to make constant, subtle adjustments to their drilling techniques to avoid running into problems.
Due to the geotechnical conditions, the soil anchors had to be installed using temporary steel casings. Anchor tendons were then inserted and reinforced with high-strength grout. Once cured and fastened, each anchor underwent stress testing – itself a significant challenge.
Accurate testing
"Maneuvering the calibrated hydraulic jack, reference beams, dial gauges, etc., over water was difficult," says Trey. "It was particularly challenging to ensure the reference beam was solidly fixed to an independent point, as the bulkhead wall was free-standing with no backfill behind the wall. Therefore, the traditional means of placing the beam on solid ground behind or in front of the wall wasn't possible, so we had to customise a reference beam that was fixed to soldier piles outside the zone of influence to ensure accurate and reliable test data."
Thanks to its experience, expertise and value-engineered approach to the anchorage system, Keller reduced project costs by 22 percent compared to the original preliminary design – and saved almost two months on the schedule.
"The professionalism, cooperation and coordination from Keller's field personnel was at the highest level," says Cory Donoghue, Project Manager for Orion. "We appreciate the team's contribution to the successful completion of this unique and challenging portion of the project."