Tunnel construction for iconic Florida hotel expansion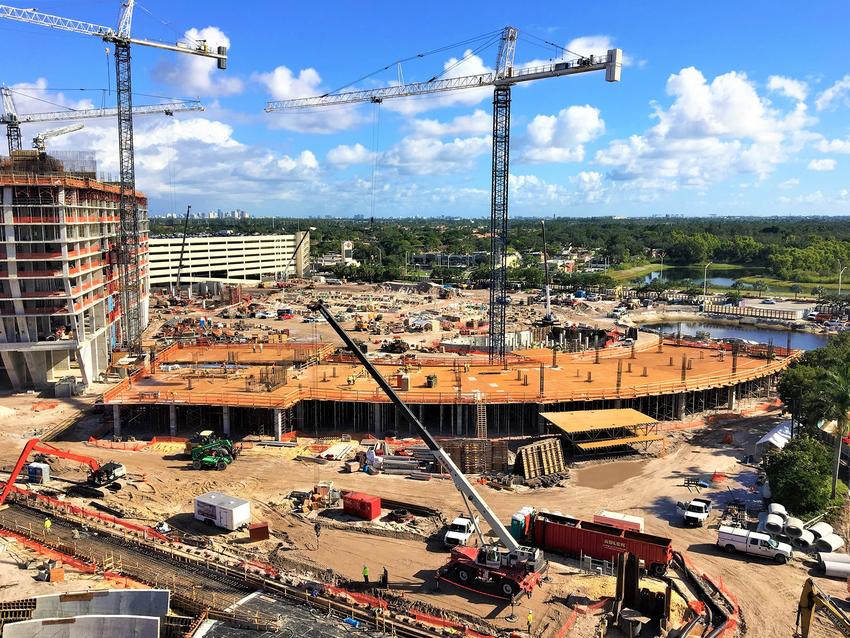 The project
The $1.8 billion expansion of The Seminole Tribe of Florida's Hard Rock Casino includes an iconic, guitar-shaped 36-story hotel tower and resort and various low-level structures housing resort amenities. The design included construction of a complex 800-ft-long valet tunnel to facilitate smooth traffic flow.
The challenge
A 125-ft-long section of the tunnel ran beneath an existing multi-story parking garage with a clearance area of just 16ft, requiring an alternate design approach to the traditional sheet pile-driving technique. Additional headroom constraints were created by an existing $8 million, 200-ft-long television screen adjacent to the garage entrance.
The solution
Keller provided a customised solution consisting of multiple techniques to address the project's specific needs all under one contract, providing an economical and efficient programme.
We designed and installed approximately 1,350 running ft of internally-braced sheet pile earth retention in open headroom tunnel areas. In the areas with headroom constraints, our team designed and constructed about 250 running ft of 5 to 10-ft-thick, maximum 16-ft deep, H-beam reinforced soilcrete gravity walls.
The overall scope of our contract also included vibro compaction and vibro replacement ground improvement performed under several low-rise structures and installation of micropiles in low headroom areas to support new heavy foundations. Keller also installed an auger cast foundation system for the tower structure.
Over the course of a year, Keller exceeded the client's expectations by consistently completing all aspects of the work ahead of schedule.
Project facts
Owner(s)
Seminole Tribe of Florida
Main contractor(s)
Suffolk Yates, A Joint Venture, LLC