Grouting on rail tunnel after sinkhole development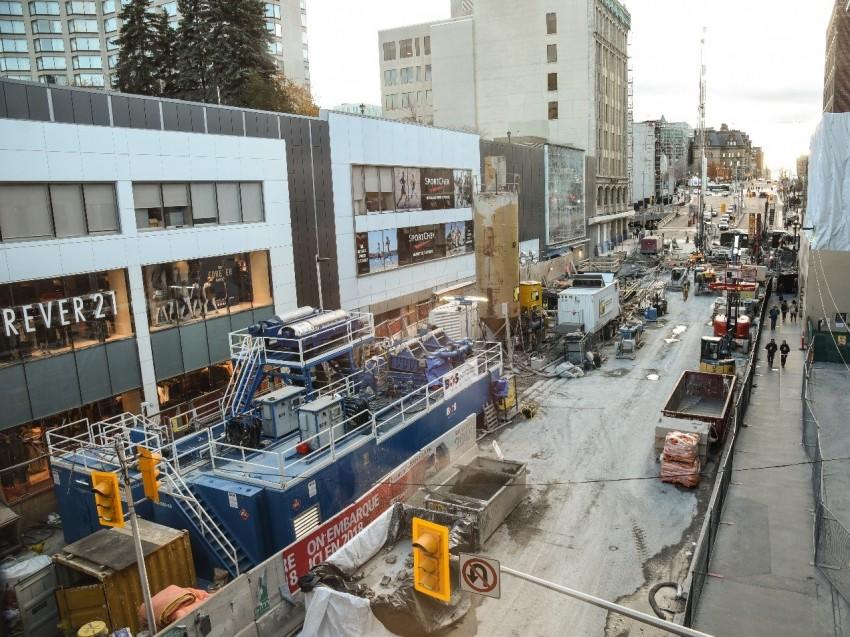 The project
The Ottawa Light Rail Transit (OLRT) Project included the construction of a 2.5 km long tunnel within the downtown area. The 9m x 6.5m tunnel was advancing near Rideau and Sussex Street in downtown Ottawa when a significant sinkhole developed above the tunnel.
The challenge
The sinkhole swallowed and buried the adjacent shoring system, vehicles and other objects making drilling of grout pipes extremely challenging. Logistics were challenging as well since the work site was adjacent to Rideau Street, the busiest street in downtown Ottawa. The project required work be performed on an aggressive schedule in very limited working space.
The solution
Daily meeting, pre-planning and excellent workmanship helped complete the work in tight quarters. Keller provided four crews in total; two shifts per day with two crews per shift; around the clock to meet the client's schedule. All information obtained from the data acquisition (DAQ) system and field records were promptly reviewed and submitted to our client throughout the programme.
Project facts
Main contractor(s)
Rideau Transit Group (RTG)