News article category
Project
The three-and-a-half year, 13-mile upgrade of Interstate Highway 635 in Dallas, Texas, was one of Keller company Hayward Baker's biggest highways projects ever. Marty Schrantz of the Little Elm office explains how the team successfully tackled this high-profile challenge.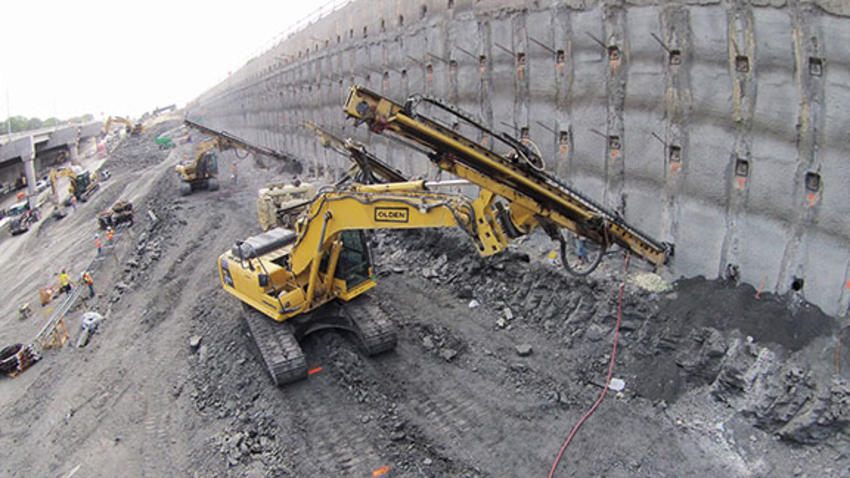 Interstate Highway 635 – also known as the Lyndon B. Johnson Freeway – is the busiest road in the Dallas/Fort Worth area, with hundreds of thousands of vehicles every day.
Backed by $2.6 billion of public-private funding, a major project to upgrade and widen a 13-mile (21km) stretch of the highway was launched.
Spanish contractor Ferrovial was awarded the Managed Lanes Project by the Texas Department of Transportation, with extensive ground engineering expertise needed to carry out the significant earth-retention works.
"We were competitive on price, but our reputation and capabilities won us the contract," explains Marty Schrantz, Senior Project Manager at Little Elm. "The plans called for elevated and lowered sections of highway that would become express lanes, and it was the lower sections that required the earth retention."
Demonstrating expertise
A project this size is never without challenges, and in the early stages Hayward Baker had to work closely with Ferrovial's designers to convince them of the best solutions. "Initially we had different design philosophies," says Marty. "But we have a lot of expertise of working in the expansive clays you find in this area. So, we did a test section to show that our anchors would work, that we could get the bonding capacities and that there wouldn't be any long-term detrimental effects."
The team won Ferrovial's trust and, once on site, the project ran smoothly. "When it came to construction, it was about being coordinated – making sure everyone knew where they had to be and keeping the work flowing to stay on schedule.
"We were governed by limited space in what are residential and commercial areas, but anchors and nails are what we do all the time, so there weren't really any problems. The main pressure was completing the sheer amount of work in the timeframe, which we did."
Ahead of schedule
The work was carried out in three continuous phases, with up to a hundred Hayward Baker workers on site at any one time. By the project's end, the team had installed over 1.5 million (139,000m2) linear feet of permanent soil and rock nails and tiebacks, and more than 1.3 million square feet (93,000m2) of shotcrete for the retention systems. In sections where the geology wasn't as good, the contractor used anchored drilled shafts and Hayward Baker installed tieback anchors.
The project was a big success and even completed nine months early. The interstate has almost doubled its capacity and the tolled express lanes have dramatically improved traffic flow in the area.
Once again Hayward Baker has demonstrated its expertise in designing and delivering a major infrastructure project that benefits thousands of people every day.