News article category
Project
When a St Louis contractor ran into an unexpected problem on the site of one of America's most iconic landmarks, they turned to Keller company Hayward Baker to get them out of a hole – or rather into one.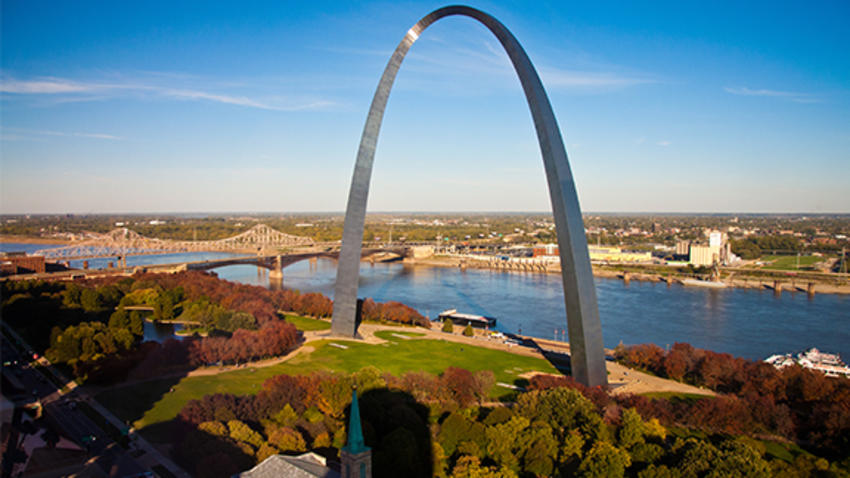 Built more than 50 years ago, St Louis's famous Gateway Arch is the world's tallest arch and a national monument to American settlers and the country's westward expansion.
Over the last couple of years, the grounds surrounding the Arch have undergone a significant regeneration and a new museum is being constructed by national contractors, McCarthy. But during the works, the contractors ran into an issue that required some ground engineering expertise.
Good, solid design
The National Park Service wanted to add a mechanical suite below the museum to house electronics, heating and ventilation, and other vital utilities. "The only place to do it was beneath the museum, one basement level below the ground," explains Jeff Hill, Director at Hayward Baker. "The contractor thought they could excavate all of it in rock, but the ground turned out to be soft clays and soils. It quickly became a pressing issue. We've worked with McCarthy for years, so they turned to us."
Like many of our clients, the company knew they could count on Hayward Baker to do a difficult job on a tight schedule for a high-profile project.
Hayward Baker's St Louis office, led by Greg Terri, designed a solution to install 12 micropiles to support three significant column foundations and around 200 wall feet of drilled micropile beam and lagging to allow for the deep excavations below the existing museum basement slab. The foundation and retention elements were varying lengths due to the karstic limestone.
"We faced difficult drilling conditions on a tight-access site, encountered layers of hard rock, then voids, clay fill voids and highly weathered rock," says Greg. "Micropiles are generally used for a vertical load, but we had to design them for earth retention as well. It all came down to good solid design and a lot of planning with the engineer so we could get the equipment in there. We didn't exactly know what we were going to find, so we had a couple of drilling methods ready to go.
"When excavating to install the micropile pile caps that were to tie into the existing columns, we encountered H-piles at some locations. However their extent, condition and capacity could not be verified. That probably meant we didn't need all of the micropiles, but on projects beneath a National Monument on a critical schedule there can be no room for error."
Part of history
The team successfully completed the job in around four weeks. Although it might not have been one of the company's biggest projects, anything involving a National Monument and famous tourist attraction inevitably adds a little extra pressure.
"It's great for Hayward Baker to work on these national projects," Jeff adds. "There's a patriotic aspect but also they're just really interesting from an engineering point of view. There's nothing else like the Gateway Arch in the world; it's a completely unique structure and a masterpiece of structural engineering and architecture. You really feel like you're getting into a bit of history with every pile you drill. It was a privilege to work on it."