News article category
Project
The Ritz-Carlton Residences in Miami will be an opulent 649ft-high beachside apartment tower offering $21 million penthouse suites and incredible views over the Atlantic Ocean. Such a large-scale development demands high-quality foundations and that's where South Florida's best, Keller company HJ Foundation, comes in.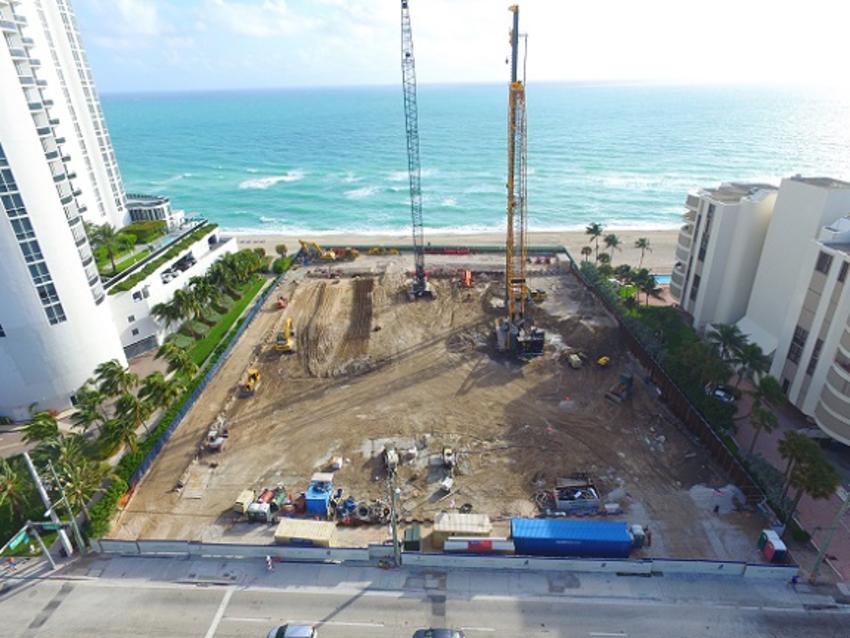 It takes considerable skill and expertise to install large-diameter continuous-flight auger piles. And HJ Foundation is right up there with the best of them.
Appointed by general contractor Suffolk in 2016 for The Ritz-Carlton Residences in Sunny Isles Beach, HJ was contracted to install 165 36-inch diameter auger piles to a depth of 155ft. The 14-month project also included 104 18-inch diameter piles to 45ft, along with sheet piling and bottom seals for the elevator pits.
"You have to get everything right"
"These are among the biggest augercast piles we've done and they bring some specific challenges," says Project Manager Michael Meneses. "These types of jobs are not known for their high quantity, so you can only do about three or four piles a day. And you really have to get everything right. Because they're continuous flight, once you start pumping the pile you can't stop and if you run into any hiccups it's going to impact production – which wouldn't be good news for the client. Having a rigorous quality management plan in place ensured we avoided any issues.
"The amount of grout needed for each pile is incredible, so we had six ready-mix trucks on site at any one time for every pile. Also, the cages for the piles – at 155ft long – take up a lot of real estate, so we couldn't stock pile more than nine at a time. There were a lot of logistical challenges but it's all about being proactive and identifying any potential risks early on.
"In order to deliver in a timely manner, we had to figure out how to continue installation of the auger piles while we mobilised equipment for the sheet piling. There was a lot of overlap of activities, which required coordination with the client and other trades on site to ensure everything ran smoothly and safely."
A get-it-done attitude
The ground itself also proved difficult. The sandy conditions in the upper soil strata caused the upper portion of the large piles to blow out to around 60 inches, which required more equipment, personnel, and effort to complete the pile cutoff work.
However, having successfully completed many such complex projects in South Florida, HJ was once again more than capable of delivering – finishing on time with zero quality issues or safety incidents.
"We've done lots of work for Suffolk and they like our get-it-done attitude and out-of-the-box thinking on projects like this," Michael adds. "Whatever a project requires, we do our very best to provide a solution. When we identify a problem and present it to the client, we're already thinking about how to solve it."
Above and beyond
One example was the fabrication and installation of steel reinforcement for the tension piles. The job required grade 97 steel, but with a lead time that would have had serious implications for the schedule, Michael and the team engineered a solution, sourcing a combination of grade 75 and grade 150 to keep things on track.
"HJ will always go above and beyond to figure out a way to complete a project in the shortest time and with the utmost quality," he adds.
It's this reputation that will no doubt see HJ deliver many more prestigious projects in South Florida in the years to come.