News article category
Project
When a 65,000-seater stadium in Florida needed renovating, the design for the new roof canopy caused a problem that our competitors said couldn't be solved. But HJ Foundation had other ideas – setting a world record in the process.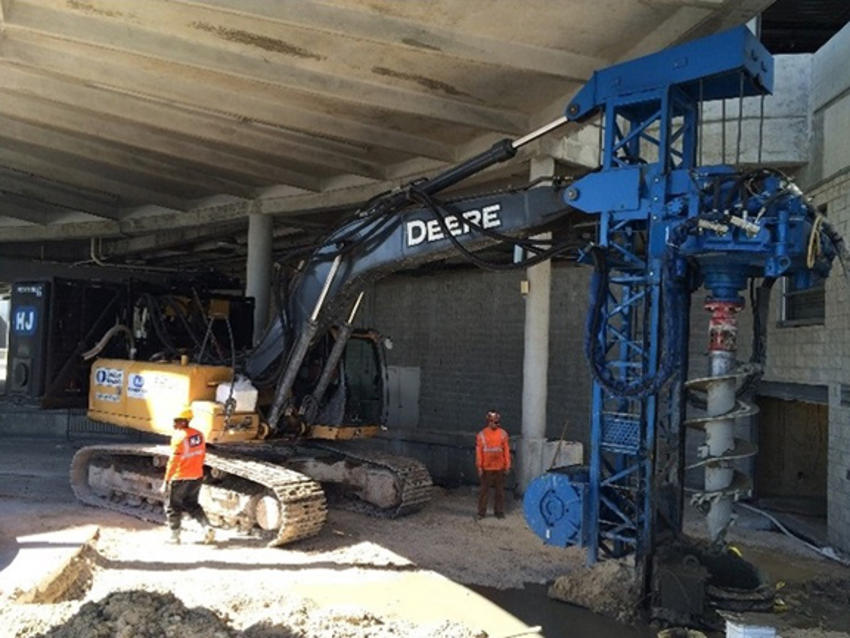 It's home to the famed Miami Dolphins football team. It's hosted Super Bowls, Major League Baseball and concerts by U2, Madonna and Paul McCartney. But by 2014, the Sun Life Stadium – as it was known then – was in need of a major renovation.
A key part of the $350 million project was a new canopy over the main seating areas. To ensure this was as aesthetically pleasing as possible, the canopy's eight support columns were designed to sit right up against the edges of the building in each corner. But as Hunt, the main construction company, soon discovered, this caused a problem.
"The project required a system of 1,000-ton auger cast piles to be constructed, ranging from 80 to 100ft in length, in a very tightly restricted area with just 20ft of headroom," explains HJ Foundation Project Manager Nick Feldt. "All the other bidders said it wasn't possible to do it that way, we said it was. We'd constructed these sizes before in a single stroke, not in sections, but we were confident we had a solution."
New rigs required
The biggest challenge was the equipment. Nick and the team knew that there wasn't a rig that could construct such large piles and drill 30-inch diameter holes in such a confined space. So they designed a new one.
"With the countdown to the new football season underway, we had three months to build a new rig. We took some of the equipment we use for our large piles, modified it and hooked it up to a smaller unit and basically created a machine that doesn't exist on the market."
With one hurdle out of the way, it was onto the next. Drilling for the piles wasn't just within a tight area, it also had to be done within inches of the stadium's original shallow footings. That's where being part of a global organisation and having the ability to call on international expertise is a real advantage for Keller businesses. HJ was able to bring in Hayward Baker to perform chemical permeation grouting to protect the existing shallow footings. Colleagues from the business unit were also called back later to carry out jet grouting when HJ encountered soil subsidence on two of the columns.
Efficiency and operational excellence
"This was a very high-profile project that had to be finished in time for the start of the football season in September 2015," says Nick. "Tensions were high and we were constructing a pile in a completely new way. Each corner of the stadium was a little different, so we almost had to treat each one like a separate job, setting up our rigs accordingly. We were very proactive, holding daily meetings. As we were finishing one corner we made sure the construction manager had the next one prepared for us."
After three months' designing and two months' execution, the job was finished on budget, on time and to a high level of client satisfaction. Furthermore, the team set a world record for low headroom auger cast piles of this size.
Nick adds: "This project really demonstrated our capabilities. It showed that we were able to take on a challenge that our competition said couldn't be done, come up with an innovative solution and execute it with efficiency and operational excellence. And that's something we can now proudly show to other clients when it comes to future projects."