News article category
Corporate
Keller Group plc ("Keller" or "the Group"), the international ground engineering specialist, issues this Interim Management Statement covering the period from 1 July to 14 November 2011.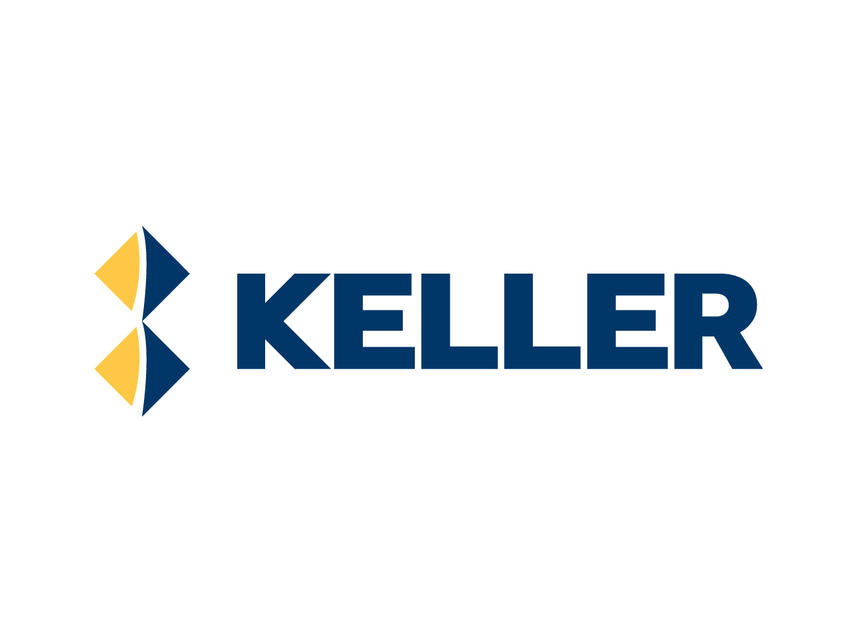 Overview
Conditions across our mature markets remain difficult, with an increasingly uncertain macro-economic outlook threatening any significant recovery. Whilst our growth markets continue to offer good prospects in the medium term, the overall picture remains challenging.
Trading in the US and Europe has been in line with the Board's expectations, but the results elsewhere have suffered from a combination of tougher market conditions in certain locations and delays in the start of a few large projects.
For the Group as a whole, the full year's revenue will be around £1.15bn, in line with market expectations. However, the Board now expects the 2011 full-year profit before tax to be below market expectations and in the range of £21m to £23m.
Divisional Review
US
Although conditions in the US construction market overall remain difficult, there are some signs that the market may have stabilised. The competitive environment however remains extremely challenging, with margins still at historically low levels.
Since the half year, contract awards to our US foundation contracting businesses have continued at a good level and the order book at the end of October is ahead of the previous year. The first-half improvement in Suncoast has continued into the second half of the year, helped by cost reductions implemented in the second half of 2010.
For our US businesses as a whole, we expect 2011 revenue and profits to be ahead of 2010, both in the second half and for the full year.
Continental Europe, Middle East & Asia (CEMEA)
Within Continental Europe, trading in the last four months has been broadly in line with the Board's expectations at the time of the announcement of the Group's 2011 interim results. However, order intake has trended down somewhat on the back of the renewed macro-economic uncertainty and the order book, whilst still relatively healthy, is now below the level of the same time last year. Our Polish business has had a very strong year to date. The business is currently slowing, having completed a number of major projects, but tendering levels remain healthy. Elsewhere in Continental Europe, our other major markets continue to be difficult, with insufficient privately-financed projects to take up the slack left by government austerity programmes.
In Asia, Resource Piling has had a very challenging time in recent months, faced with a keenly competitive piling market in Singapore. Elsewhere in our Asian markets, we continue to see good demand for our products, although our second-half results in India will be impacted by delays on two significant projects.
There has been little change in our trading in the Middle East.
Australia
In Australia, the "two-speed" construction market continues, mirroring the underlying economy. Prospects for projects related to the resources sector remain strong, but commercial construction and expenditure on infrastructure continue to be weak.
The recent end of the infrastructure boom in Queensland has meant that Piling Contractors, our Brisbane-based business that is largely reliant on the infrastructure market, has had a tough year. This has been compounded by some difficult jobs as well as by costs incurred in connection with possible work in New Zealand. As a result, Piling Contractors will now make a loss in the full year. Actions have been taken both to refocus the business and to reduce its cost base by A$4m, with an associated one-off cost of about A$2m. We expect Piling Contractors to return to profitability in 2012.
Prospects for the Australian businesses as a whole remain good, with a number of significant projects in the pipeline.
UK
The underlying UK construction market remains extremely difficult and we continue to take action accordingly. Last week, we took the decision to close another of our UK offices, the third regional office to be closed in the last two years.
As previously announced, our UK business won a number of major infrastructure contracts in the summer. We have now started our work at the projects for Crossrail although, as expected, this and the major work in connection with the Victoria Station Upgrade will not make a significant contribution to the UK results until 2012.
Financial Position
There has been no material change in the financial position of the Group since the interim results announcement on 1 August 2011. As previously advised, we refinanced our main central banking facilities in December 2010 - replacing £145m of committed facilities with a new £170m revolving credit facility, expiring in April 2015 - and we continue to operate well within our financial covenants.
Outlook
For the Group as a whole, the full year's revenue will be around £1.15bn, in line with market expectations. However, the Board now expects the 2011 full-year profit before tax to be below market expectations and in the range of £21m to £23m.
Looking further ahead, the Group's order book at the end of October was around 20% up on the same time last year, underpinned by some very large projects in the UK and Australia. However, the current macro-economic conditions mean that the outlook for construction markets, particularly in Europe, remains uncertain. In this environment, we will continue to exercise caution in our management of costs and to focus on risk management, the most efficient use of our resources and maximizing cash generation.
This prudent approach, together with our geographic diversification, will help us in today's difficult markets, whilst ensuring that we are well-placed to benefit as markets and economies improve.
Keller will issue a pre-close statement in respect of the year ending 31 December 2011 on 15 December 2011.
A conference call for analysts is to be held at 09.00 on 15 November 2011 Contact Emma Russell at Finsbury (see above) for dial-in details.
This document contains forward-looking statements which have been made in good faith based on the information available at the time of its approval. It is believed that the expectations reflected in these statements are reasonable, but they may be affected by a number of risks and uncertainties that are inherent in any forward-looking statement which could cause actual results to differ materially from those currently anticipated.
Note to Editors
Keller is the world's largest independent ground engineering specialist, providing technically advanced and cost-effective foundation solutions to the construction industry. With 2010 revenue of £1,069m, Keller has over 6,000 staff world-wide, with offices in around 40 countries on five continents.
Keller is the market leader in the US and Australia; it has prime positions in most established European markets; and a strong profile in many developing markets.