News article category
Project
Every day across the world, Keller helps construct major infrastructure projects that drive economies and improve millions of lives. One region where Keller is bringing its expertise to power plants, highways, rail lines and more is ASEAN.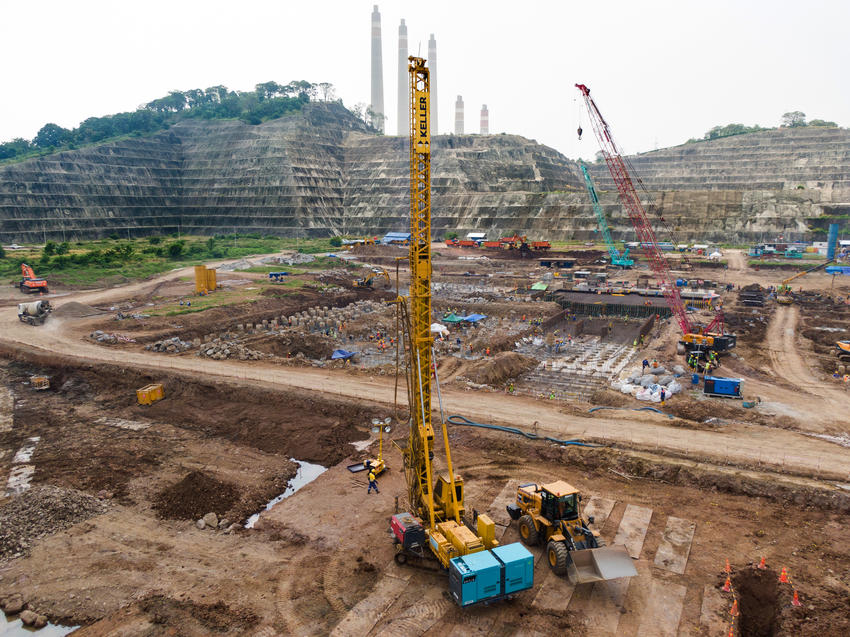 After many decades of heavy foundation work, Keller in Indonesia made the strategic decision to focus on ground improvement instead.
"The market's changed in Indonesia, with piling projects dominated by cheap Chinese companies," explains Yohanes Prakoso, Senior Business Development Manager. "So now we've moved into ground improvement, where we feel we have a much stronger competitive advantage."
The move has paid off, with the team securing a significant contract for a power plant in Java.
This is a hugely important and complex project of national importance," says Yerikho Purba, Deputy Project Manager. "Originally the project was designed for piling, but by offering stone columns as an alternative, we were able to reduce the cost by a quarter and provide greater earthquake mitigation."
An example of excellence
The team is working on this mega project until May 2022, installing 120,000m of stone columns. "There's a very hard soil layer that requires pre-boring, but we're on schedule and, in fact, the client has given us more of the project due to our efficiencies.
Keller has huge experience of high-profile infrastructure projects in Indonesia, having contributed to the 1,000km-long main Java highway and Jakarta airport upgrade in recent years.
One of the company's biggest-ever projects – and one that secured half the firm's revenue for that year – was installing foundations for a liquid natural gas plant in a remote area of West Papua. The project involved installing 6,000 bored piles and 700 corrugated sheet piles. Plus, at the start of last year, the team finished its last heavy foundation project for a major high-speed railway.
"Although the majority of the project was done by a Chinese contractor, we were asked to install bored piles in several difficult sections," says Yohanes. "There were various challenges such as a restricted site next to the country's main highway, and complex soil conditions.
"Every time the owner or a government minister visited the site, the contractor would bring them to our site because of our high standards!"
Winning more work
As with all these projects, Keller was chosen for the quality of its work, high safety standards and ability to meet the demands of some of the world's largest clients.
In neighbouring Malaysia, Keller is working on a ground-improvement project for a large petrochemical plant in the northwestern state of Sarawak. The project team, led by Eric Ting, has recently seen the quantity increase to around 60,000m of stone columns and 45,000m of hybrid concrete columns.
As in Indonesia, Keller Malaysia opted for ground improvement techniques due to their economy and performance. "It's been a fast-tracked project, so we've had to plan and resource it very quickly," explains KJ Tan, Business Development Manager. "We've had to use local workers, which has meant building a team quickly almost from scratch and training them in the Keller ways of working.
"Projects of this size also require a lot of interaction with the client, subcontractors and suppliers. There are many big projects in this area, so we're competing to secure the raw materials we need – with some stone aggregates coming from 350km away. Hybrid concrete column are not that common in this area of the country, so we have to make sure the concrete is correctly batched in order to suit our needs and to maintain high productivity levels.
"Also, the designs are changing all the time, so our design team, led by William Chong, has had to respond quickly. But the great thing is, the client is so pleased with our progress and our quality that we're seeing them changing some of the scope from piling to ground improvement, giving us more work."
Improving people's lives
Another huge project involves the team providing ground improvement for a mass rapid transport system that will significantly upgrade the country's public transport and generate huge economic benefit. The team worked on the first line between 2012 and 2014 and have been involved in the second for the past five years.
"Keller Malaysia is very proud to be participating in projects that use greener techniques and which make so many people's lives better," says KJ. "It's good to make a difference in the world."