News article category
Project
How do you lay foundations for buildings that will stretch over a busy interstate highway? You call the experts. As Washington DC's largest construction project continues to take shape, we look at how Keller's geotechnical knowhow has helped Capitol Crossing get off the ground.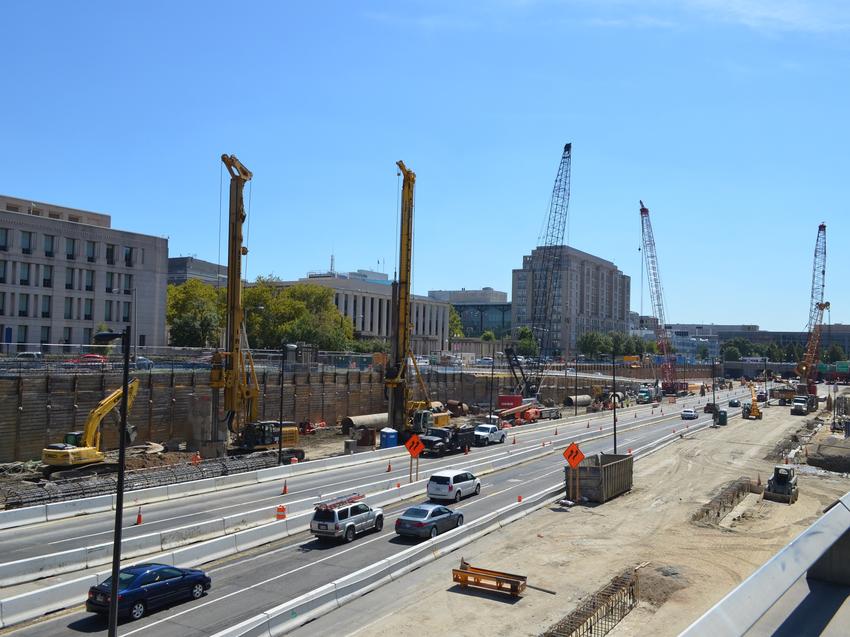 Covering 2.2 million square feet and costing $1.3 billion, Capitol Crossing is a major mixed-use development featuring five buildings housing retail, restaurants, office space and apartments.
As well as regenerating the area, it's believed Capitol Crossing will generate 8,000 permanent jobs and $40 million a year in tax revenue for the nation's capital.
One of the unique aspects of the project is that the buildings will span a sunken part of the I-395 highway, reconnecting the historically divided neighbourhoods of Capitol Hill and the East End.
Laying the foundations amid a six-lane highway was always going to prove hugely challenging, but it was a challenge that Keller business units including Case Foundation and Bencor were more than ready for.
Saving time and money
"The general contractor, Balfour Beatty, recognised that site logistics were going to be the most difficult aspect of the work, so our involvement began very early on," explains Jared Mangino, Special Projects Manager at Case. "The initial designs required the platform to be supported on 149 drilled shafts using 10 different pile sizes ranging from 3.5 to 12 ft in diameter. These would be installed within the tight footprint of the highway shoulders and median.
"Using our expertise and experience, we worked with the design team and made recommendations to reduce the number of shafts required. We carried out rigorous load tests installed with the support of our McKinney Drilling colleagues several months prior, giving the project team confidence in streamlining the design.
"This resulted in a reduction of the number of different diameter sizes to four (ranging from 3 to 8 ft), leading to a 6.5 percent reduction in project foundation costs and 10 percent reduction in the foundation construction schedule."
Little room for error
The plan involved the team installing the drilled shafts in four phases, with two drill crews carefully coordinated to minimise disruption. Work within the highway median proved to be one of the most challenging aspects due to a working area barely 32 ft wide – just enough room for the BG-39 rig and 200-ton crane to pass each other. The crew was supported by fellow Keller business unit McKinney, which provided some pre-drilling and installed shafts for dewatering.
With such limited space, the reinforcing steel cages had to be built off site and trucked to each hole location every night, during which time lanes were closed to reduce traffic and allow for a smoother delivery of the materials.
The piles were installed up to 130 ft deep through sands and lean clays using a combination of polymer slurry and vibratory casing. Meanwhile, Case teamed up with sister company Bencor to construct the slurry (diaphragm) wall.
The slurry wall experts
"We've been working with Case for over 40 years, and as the largest slurry wall installer in North America, we were able to bring our considerable expertise to the project and offer the client a complete foundation package," says Nicolas Willig, Bencor President.
As with the drilled shafts, the Case/Bencor team worked with the design team, geotechnical engineers ECS, and structural engineers LERA to improve the proposed design. These changes reduced the schedule and costs by eliminating the need for different panel widths and slashing the overall area by 5,000 ft2.
The new design featured 36 panels each 36 inches wide and installed between 61 and 76 ft deep with a total area measuring just under 56,500 ft2.
"Although the drilling and slurry wall were essentially separate operations, we were able to provide seamless coordination to manage the concrete supply limitations, spoils, and Balfour Beatty's other supporting services," adds Nicolas.
"The schedule was tight but we succeeded, maintaining the highest operational safety standards without incidents in what was obviously a very challenging logistical area."
More support from Moretrench
A few months after Case and Bencor's involvement, Moretrench – acquired by Keller earlier this year to add dewatering and ground-freezing to its arsenal of techniques – was brought in by Balfour Beatty.
"Over six months, we provided a primary dewatering system consisting of 33 deep wells for the below grade parking garage on the west side of the project," explains George King, Area Manager. "We were able to create the wells using a mud rotary drilling method required by the regulators – something our competitors weren't able to offer."
As with Case and Bencor, Moretrench faced logistical challenges that required careful coordination with the main contractor's works.
With all of Keller's work now completed, the construction of Capitol Crossing is well underway and on schedule to be completed by 2021.