News article category
Corporate
Keller Group plc ('Keller' or 'the Group'), the world's largest geotechnical specialist contractor, today issues an update on the Group's trading for the period ended 31 October 2021.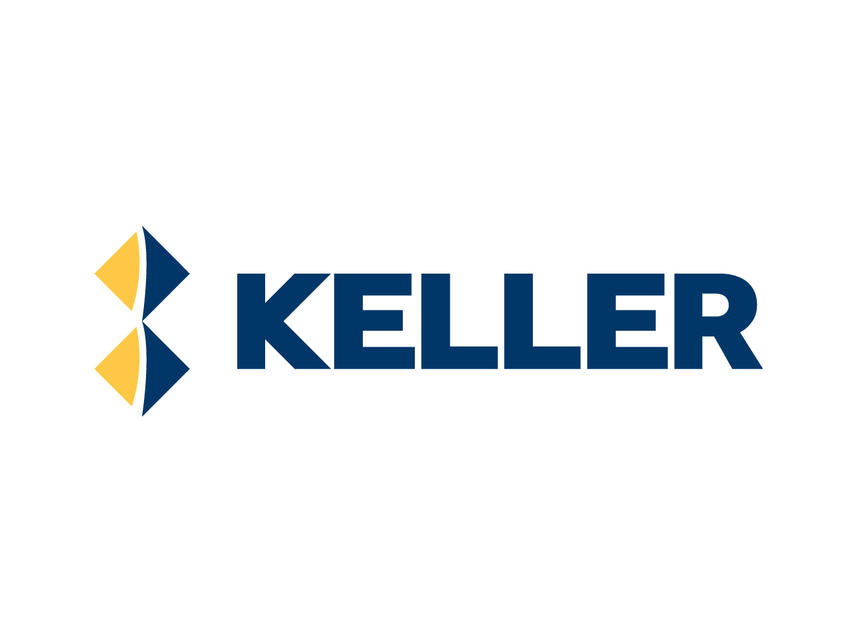 Full year outlook in line with market expectations
Since our half year results announcement on 3 August 2021, trading has largely continued as anticipated as the world progressively recovers from the direct impact of the pandemic and the Group's overall performance for 2021 is expected to be in line with market expectations, underpinned by the order book that remains at a record level of c£1.2bn.
In North America, the recovery of trading post COVID-19 is most advanced, albeit the speed of recovery is being impacted by confidence, inflation and resource availability issues which we are seeing to various degrees across our US businesses. The impact of steel pricing at Suncoast, the Group's post-tension business, has continued as expected and demand in the residential sector currently remains robust. We have made good progress integrating RECON Services, the geotechnical environmental remediation and industrial services company based in Texas, which we acquired in July 2021. The recent Presidential Executive Order, which becomes effective in January 2022, mandating COVID-19 vaccination for any employee associated with Federally-funded projects adds a further industry-wide challenge to managing our resources in the US, where we are unable to mandate vaccinations ourselves, especially in states where vaccination take up has been low.
Trading across Europe is in line with our expectations, with markets emerging more tentatively from the impact of the pandemic as previously highlighted. Despite the increased cost and reduced availability of raw materials and qualified labour in certain markets, we have seen a general trend of improved trading. Our project performance on HS2 in the UK continues to progress well. 
The recovery of trading in AMEA (Asia-Pacific, Middle East and Africa) post COVID-19 remains the most challenging, especially in the Australia and Middle East and Africa businesses with countries still relying on lockdowns and restrictions in advance of vaccination programmes. In Mozambique, the LNG project remains suspended due to terrorist activity in the region. We have however recently signed a settlement agreement with the client that will largely reverse the contract loss incurred to date and protect the Group in the event that the contract does not resume in the short to medium term.
Strategic progress
We have continued to execute our strategy to increase market share in our chosen markets with three, small bolt-on acquisitions in the period:
Our joint venture in Finland, KFS Finland Oy, acquired NordPile, a driven and drilling piling contractor, in September. This acquisition reinforces KFS's position as the largest geotechnical specialist contractor in the region offering the widest range of solutions.
In October, Keller North America acquired Subterranean (Manitoba), a geotechnical contractor specialising in driven and cast-in-place pile foundations, based in Manitoba, Canada.
In November, Keller North America also acquired Voges Drilling, a geotechnical foundation company, focussed on drilled shafts in the San Antonio and Austin markets in Texas.
We will integrate these businesses into the local Keller businesses in the coming months and, in line with our strategy, reinforce Keller's market position in the respective local markets. We expect the year end net debt/EBITDA leverage to be in the bottom half of our 0.5x-1.5x range, driven by a continued strong cash performance. 
Keller is performing well in the current environment, despite various challenges, and we continue to have a strong order book and to make good progress on our strategic initiatives. Overall, our outlook for the full year remains in line with market expectations."
Chief Executive Officer
The Group will announce its full year results for 2021 on 8 March 2022.
For further information, please contact:
Keller Group plc
Michael Speakman, Chief Executive Officer
David Burke, Chief Financial Officer            
Caroline Crampton, Head of Investor Relations
www.keller.com
020 7616 7575
FTI Consulting
Nick Hasell
Matthew O'Keeffe
020 3727 1340
Notes to editors
Keller is the world's largest geotechnical specialist contractor providing a wide portfolio of advanced foundation and ground 
improvement techniques used across the entire construction sector. With around 9,000 staff and operations across five continents, Keller tackles an unrivalled 6,000 projects every year, generating annual revenue of more than £2bn.
Cautionary statements
This document contains certain 'forward looking statements' with respect to Keller's financial condition, results of operations and business and certain of Keller's plans and objectives with respect to these items. Forward looking statements are sometimes, but not always, identified by their use of a date in the future or such words as 'anticipates', 'aims', 'due', 'could', 'may', 'should', 'expects', 'believes', 'intends', 'plans', 'potential', 'reasonably possible', 'targets', 'goal' or 'estimates'. By their very nature forward-looking statements are inherently unpredictable, speculative and involve risk and uncertainty because they relate to events and depend on circumstances that will occur in the future. There are a number of factors that could cause actual results and developments to differ materially from those expressed or implied by these forward-looking statements. These factors include, but are not limited to, changes in the economies and markets in which the group operates; changes in the regulatory and competition frameworks in which the group operates; the impact of legal or other proceedings against or which affect the group; and changes in interest and exchange rates. For a more detailed description of these risks, uncertainties and other factors, please see the Risk Management approach and Principal Risks section of the Strategic Report in the Annual Report and Accounts. All written or verbal forward looking statements, made in this document or made subsequently, which are attributable to Keller or any other member of the group or persons acting on their behalf are expressly qualified in their entirety by the factors referred to above. Keller does not intend to update these forward looking statements. Nothing in this document should be regarded as a profits forecast. This document is not an offer to sell, exchange or transfer any securities of Keller Group plc or any of its subsidiaries and is not soliciting an offer to purchase, exchange or transfer such securities in any jurisdiction. Securities may not be offered, sold or transferred in the United States absent registration or an applicable exemption from the registration requirements of the US Securities Act of 1933 (as amended). 
LEI: 549300QO4MBL43UHSN10
Classification: 2.2 Inside information