News article category
Corporate
Keller Group plc ('Keller' or 'the Group'), the world's largest geotechnical specialist contractor, issues a trading update for the period ended 30 September 2023.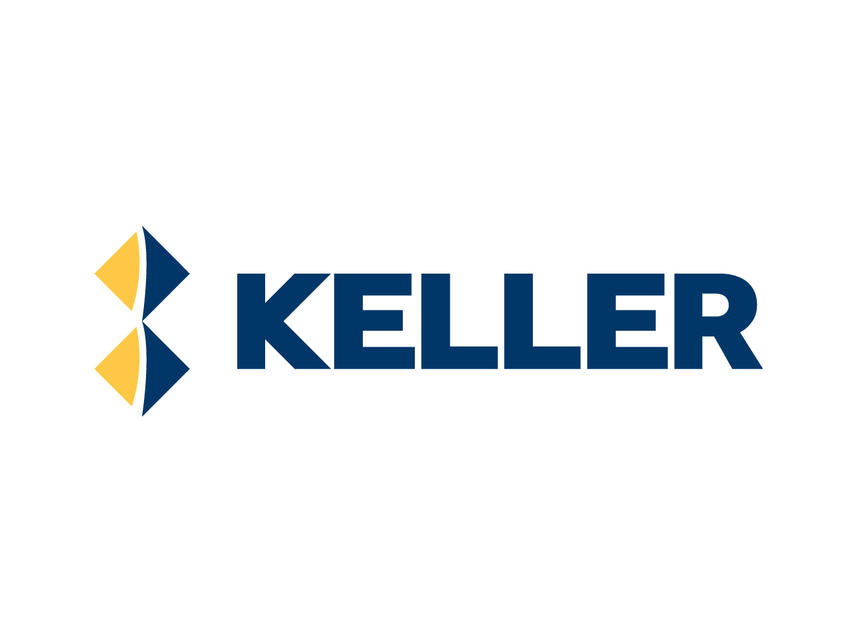 On track for a record year; full year operating profit to be materially ahead of market expectations.
Overall, positive trading momentum in the third quarter has been maintained following the Group's exceptionally strong first half performance. Given our trading performance to date and the continued momentum in the business, we now expect full year underlying operating profit to be materially ahead of current market expectations.
In North America, more resilient pricing than expected in Suncoast and sustained operational improvements in the foundations business have resulted in a strong performance, with a more progressive recovery in the operating margin than expected. The pricing benefit at Suncoast is expected to moderate into 2024 with the margin returning to more normalised levels.
In Europe, the macro-economic environment remains a challenge for the business, resulting in weak demand in the residential and commercial sectors across the region. Profitability continues to be impacted by the competitive pricing environment and the impact of some challenging projects, whilst the effect of several large successful projects in the prior year, provides a tough comparator for the period. Accordingly, the anticipated profitability improvement in the second half will be less than expected and as a result we are taking appropriate corrective actions.
In Asia-Pacific, Middle East and Africa (AMEA), Keller Australia is performing strongly, particularly in the infrastructure sector, and Austral has returned to profit in the third quarter as expected. At NEOM, we remain in discussions with the client in respect of the award of future works orders, however, due to the evolution of the design, the piling work on The Line has been delayed and we are taking steps to redeploy resources in the short term.
Reflecting the very strong earnings performance, together with continued focus on working capital management, the Group's cash generation for the year to date is considerably ahead of the prior year and better than our expectations. We therefore expect the year-end net debt/EBITDA leverage ratio to be below 1.0x, well within our target range of 0.5x – 1.5x (2022: 1.2x).
The Group will announce its full year results for 2023 on 5 March 2024.
The Keller team has built on an exceptionally strong first half to deliver a better than expected third-quarter performance, and consequently we now expect full year underlying profit to be materially ahead of current market expectations. This performance reflects continued momentum and operational improvements within the business and the outstanding contribution of colleagues across the Group, whom I would like to thank for their dedication and hard work."
Chief Executive Officer
For further information, please contact:
Keller Group plc
www.keller.com
020 7616 7575
Michael Speakman, Chief Executive Officer
David Burke, Chief Financial Officer
Caroline Crampton, Group Head of Investor Relations
FTI Consulting
Nick Hasell / Matthew O'Keeffe
020 3727 1340
Notes to editors
Keller is the world's largest geotechnical specialist contractor providing a wide portfolio of advanced foundation and ground improvement techniques used across the entire construction sector. With around 10,000 staff and operations across five continents, Keller tackles an unrivalled 6,000 projects every year, generating annual revenue of c£3bn. 

Cautionary statements
This document contains certain 'forward-looking statements' with respect to Keller's financial condition, results of operations and business and certain of Keller's plans and objectives with respect to these items.
Forward-looking statements are sometimes, but not always, identified by their use of a date in the future or such words as 'anticipates', 'aims', 'due', 'could', 'may', 'should', 'expects', 'believes', 'intends', 'plans', 'potential', 'reasonably possible', 'targets', 'goal' or 'estimates'. By their very nature forward looking statements are inherently unpredictable, speculative and involve risk and uncertainty because they relate to events and depend on circumstances that will occur in the future. There are a number of factors that could cause actual results and developments to differ materially from those expressed or implied by these forward-looking statements. These factors include, but are not limited to, changes in the economies and markets in which the Group operates; changes in the regulatory and competition frameworks in which the Group operates; the impact of legal or other proceedings against or which affect the Group; and changes in interest and exchange rates. For a more detailed description of these risks, uncertainties and other factors, please see the Principal risks and uncertainties section of the Strategic report in the Annual Report and Accounts. All written or verbal forward looking-statements, made in this document or made subsequently, which are attributable to Keller or any other member of the Group or persons acting on their behalf are expressly qualified in their entirety by the factors referred to above. Keller does not intend to update these forward-looking statements. Nothing in this document should be regarded as a profits forecast. This document is not an offer to sell, exchange or transfer any securities of Keller Group plc or any of its subsidiaries and is not soliciting an offer to purchase, exchange or transfer such securities in any jurisdiction. Securities may not be offered, sold or transferred in the United States absent registration or an applicable exemption from the registration requirements of the US Securities Act of 1933 (as amended).
LEI number: 549300QO4MBL43UHSN10 Classification: 3.1 Additional regulated information