News article category
Project
Keller in Germany is developing on-site technology that can quickly measure the cement content of back spoil produced during jet grouting. Once perfected, the innovative, cost-saving technique will allow cement to be reused in grouting, and reduce the amount of spoil sent to landfill.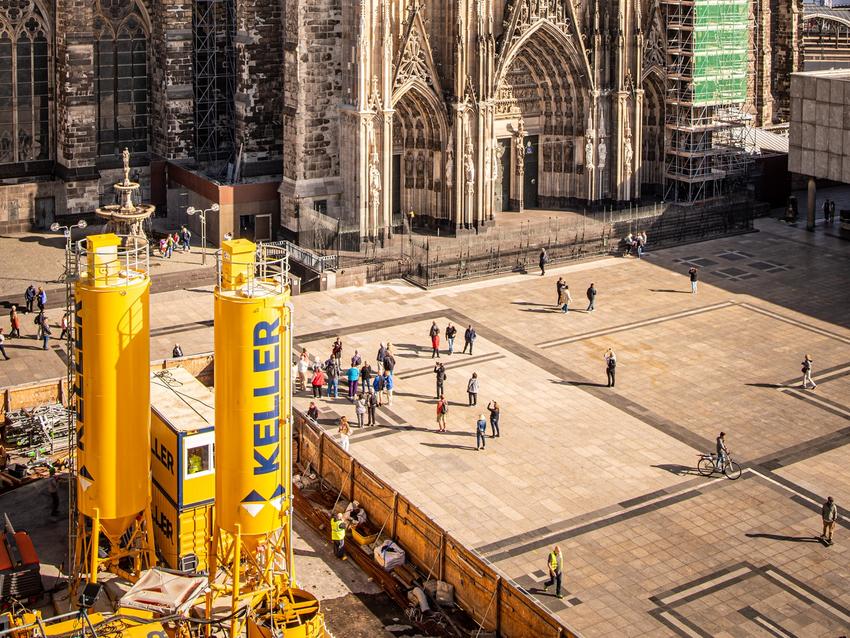 Thanks to its efficiency, reliability and versatility across a wide range of soil types, jet grouting is a highly effective and popular technique. The drawbacks however are its relatively high carbon emissions count and the creation of back spoil that needs disposal.
A key ingredient in jet grouting is cement, just a single tonne of which produces up to 928kg of CO2 during its manufacturing process. With up to an estimated 300,000 tonnes of cement used in jet grouting projects across Germany alone every year, there's a big opportunity for innovation to reduce the environmental impact. Jet grouting also generates up to an estimated 350,000 m3 of back spoil every year in the country, and while some is recycled, much is sent to increasingly scarce and costly landfill sites.
Keller is now looking to improve the sustainability of jet grouting, by working on a government-funded project with scientists at Cologne's Research Association for Tunnels and Transport Facilities (STUVA).
Environmental benefits
The initiative aims to develop an online system that can measure the cement content of back spoil on site within just a few minutes. The cement can then be filtered and reused in the grouting process. Currently, the only way to accurately measure cement content is to have samples sent to a laboratory for testing, with results taking several weeks to come back.
"If we have 100 tonnes of cement for a jet grouting project, our initial trials show that with this new system you can potentially reuse up to 20-40% of that in the grouting process," explains Frank Ludwig, Product Line Manager for Jet Grouting, Central Europe Business Unit. "This obviously has significant cost and environmental benefits in terms of the amount of cement you need.
"The process also significantly reduces the amount of back spoil going to landfill, further reducing the costs and environmental harm of disposal."
Successful field trials
A prototype for the system was developed and trialled on a project in Cologne for 11 weeks in early 2020. Six to seven tests were carried out each day, with the quality of the results comparable to those analysed under laboratory conditions – only with the advantage of being completed much faster. During the trial, around 40-50% of the back spoil was suitable for reuse.
Over the next few months, the Keller-STUVA research team will continue to improve how the system works, looking at making the measurement system smaller and easier to clean and speeding up the overall process. They'll also explore how the system handles different types of cement and soils.
Further field tests are scheduled for later in 2020, with the hope of full commercialisation within the next couple of years.
Read about our solutions for a low-carbon, low impact built environment.