News article category
Project
Keller's committed to reducing its impact on the environment by offering clients more sustainable solutions wherever possible. Improving weak soils with columns of compacted crushed concrete, recycled from other construction projects, is one such solution. It's a simple, cost-effective, low-carbon method that, as Project Manager Richard Looij explains, could give Keller a big advantage in the competitive Dutch piling market.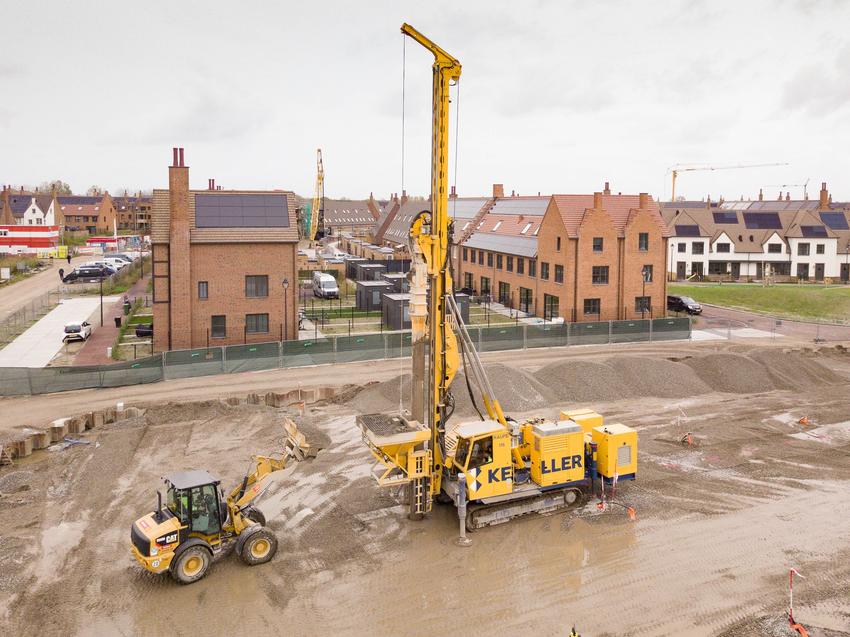 Tudor Park is an upscale housing development project in Hoofddorp, a small town around 20km from the Dutch capital, Amsterdam. It's here that Keller has recently finished a successful ground improvement project for a multi-storey, 31-unit apartment block using vibro stone columns – a more environmentally friendly ground-improvement option.
"For this project, the soil was a little different than elsewhere in the country, with a layer of clay at around 13m preventing ground water ingress, says Richard. "So the challenge was to improve the soil without letting the water in.
"We initially explored soil compaction, but only around 30-40% of the site was suitable, so we proposed vibro stone columns. This was the best technical and economical solution, but it was also the most sustainable."
Reuse and recycle
The technique involves penetrating the ground using a depth vibrator, filling the void with crushed recycled concrete and then compacting it with the vibrator. Each column is then checked for quality and surveys are carried out to ensure the soils in between meet the required density.
The process is fast, easy to do and doesn't require any additives such as cement. If the building is ever demolished in the future, the foundations can be dug up and the materials reused. The method's also ideal for contaminated ground, as the technique doesn't create any spoil that would otherwise have to be disposed of.
"As in a lot of countries, toxic PFAS [poly- and perfluoroalkyl substances] are found in the ground across the Netherlands," says Richard. "They cause a lot of problems on construction projects, but with vibro stone columns you can improve the ground without the need to remove any soil. This was something we were able to do on a recent road-building project."
Competitive advantage
While all clients are focused on quality, cost and time, environmental impact is becoming increasingly important. In fact, the client on Tudor Park is now actively looking for where vibro stone columns can be used again to further enhance its sustainability credentials.
"This is the first time this technique has been used on a multi-storey residential block in the Netherlands, so we've shown it works," says Richard. It's also a technique that our competitors don't offer here, so we have a fantastic opportunity to create a commercial advantage while demonstrating our commitment to a more sustainable future. We look forward to offering many more clients this quality, low-carbon solution for both infrastructure and residential projects."