We recognise the importance of collaborating with organisations that understand our values and commitments, and the ways of working and the standards by which we operate. Partnering with these 'likeminded' organisations helps us drive change in our organisation and the wider geotechnical industry.
Industry partnerships
Many of our senior managers play key roles in the geotechnical professional associations and activities around the world.​ 
In Europe, a number of employees are part of the European Federation of Foundation Contractors (EFFC). In Keller North America, employees are active participants in geotechnical engineering and construction trade groups, including the Deep Foundations Institute (DFI), ASCE/Geo-Institute and ADSC International Association of Foundation Drilling. Our North American engineers also hold leadership positions on multiple national technical committees (including committees on sustainability) and local and university chapters; many have served as members of the board of directors for these organisations. Finally, in AMEA, Keller plays an important role in the local professional societies, with Keller employees holding leading positions in multiple trade associations, including in ASEAN and India.​ ​
We also support trade conferences across our divisions, including the combined American and European trade conference.​ ​
Sustainability is an increasing focus in the industry. We work with a number of universities on sustainability initiatives, focusing on whole-company innovation, specific geotechnical products like grouting and vibro stone columns, and key geotechnical projects.​​
We wrote the sustainability overview for the European Federation of Foundation Contractors and helped draft the American DFI sustainability guide. We are also helping to compile sustainability best practice guides with the European and American trade associations​.
Charitable partnerships  ​
Our business units support a broad range of groups and charities, depending on what is most important to them locally. This may involve fundraising or donating money, time or skills.​​
Case study
Keller extends partnership with UNICEF
After donating £300,000 to their COVID-19 vaccines appeal in 2021, Keller has now formed a three-year partnership with UNICEF UK, starting with a funding contribution of £250,000 in 2022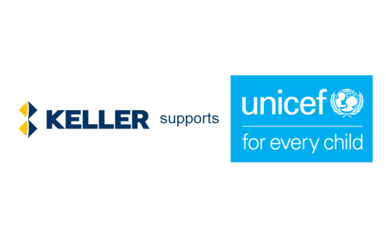 UNICEF works in more than 190 countries and territories, including some of the world's toughest places to reach. Keller's funding is without restrictions and can be used flexibly by UNICEF for children and their families wherever and whenever the need is greatest.
Many of the problems facing children are interconnected; for example, a hungry child will have difficulty learning at school and a child without access to clean water is more likely to suffer from disease. UNICEF therefore supports across the entire lifecycle of a child.
Interconnected problems require interconnected solutions. UNICEF designs solutions to respond to the experience of every child. It aims to ensure children survive and thrive, and are able to contribute to their family, community and society.
This approach aligns well with Keller's own focus on the UN Sustainable Development Goals and in particular in the areas of good health, quality education and gender equality.
or over 75 years UNICEF has responded to emergencies, doing whatever it takes to reach children all around the world to ensure children can fulfil their potential and grow up healthy and safe. Keller is proud to support UNICEF's work in providing life-saving aid to millions of children facing terrible conflicts and disasters at this time in countries such as Ukraine, Turkey and Syria."

Group Company Secretary and Legal Advisor